---
Get your Gear on Wheels!
Handling your Gear made so Easy - Bring Convenience to your Filmmaking Life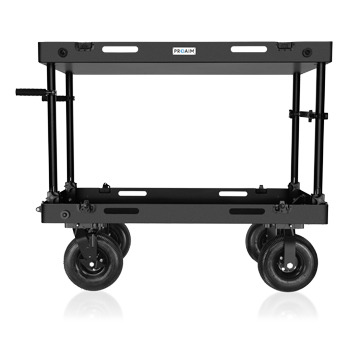 Makes you Organised
Efficient Storage Solution that perfectly keeps your entire camera gear range safely organized & accessible
Always be on time
Travel Friendly Carts - Makes Moving Around to Different Locations a lot More Enjoyable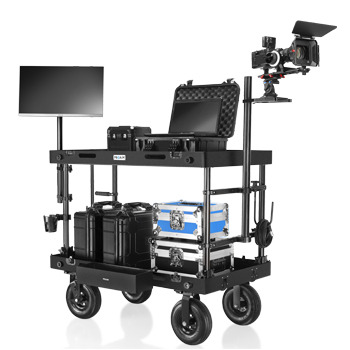 Made for your Ease
Carts Specifically made for Film Production Can Really Help Streamlining your Workflow
See how the Victor Lite Cart Works
VCTR‐LT‐32: 32x27x3.1"
VCTR‐LT‐36: 36x27x3.1"
VCTR‐LT‐42: 42x27x3.1"
VCTR‐LT‐48: 48x27x3.1"
Wheel pressure: 30 PSI (Pounds per Square Inch)
Wheel Size: 10" / 25 cm
Wheel Type: Pneumatic
Locking Wheels: 2, on rear wheels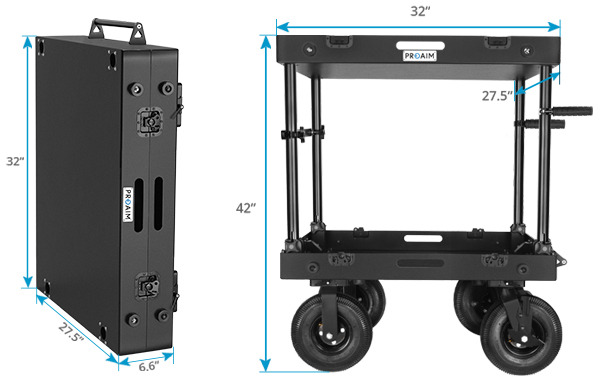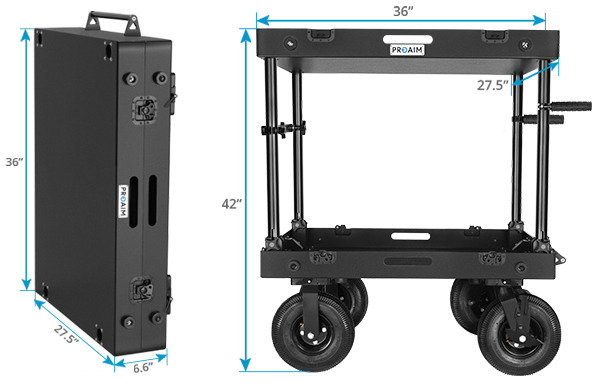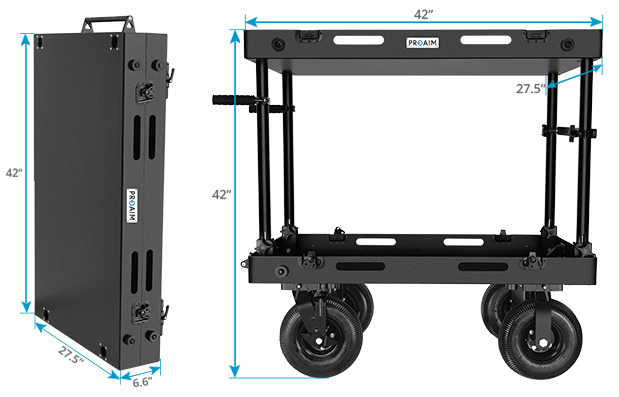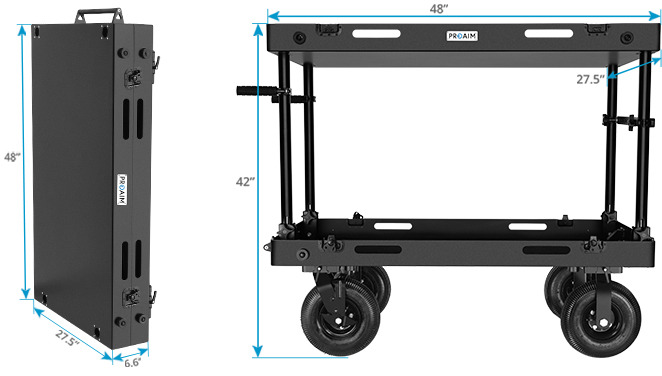 Product Weight (without packing)
VCTR‐LT‐32: 39.4kg / 86.8lb
VCTR‐LT‐36 : 41.5kg / 91.4lb
VCTR‐LT‐42 : 43kg / 94.7lb
VCTR‐LT‐48: 45.1kg / 99.4lb
Product Volumetric Weight (with packing)
VCTR‐LT‐32: 54kg / 119.0lb
VCTR‐LT‐36: 57.4kg / 126.6lb
VCTR‐LT‐42 : 66.91kg / 147.5lb
VCTR‐LT‐48 : 68.3kg / 150.7lb
Top Shelf
Lower Shelf with (4 x 6" Foldable Rods)
4 x Pneumatic Tyres
1 x Suitcase Handle
2 x Rubber Handles
4 x Knobs
1 x Accessory Crossbar
01.


Designed for your Convenience
Proaim brings you the most sought-after victor cart in one more version.
The Victor Lite is more spacious, broader, easy stroll-able & lighter.
Proaim production camera carts serve as a hub for the directors & DP's camera department, where you keep your load of equipment in one place.
It is a well-built CNC aluminum construction with a massive payload capacity.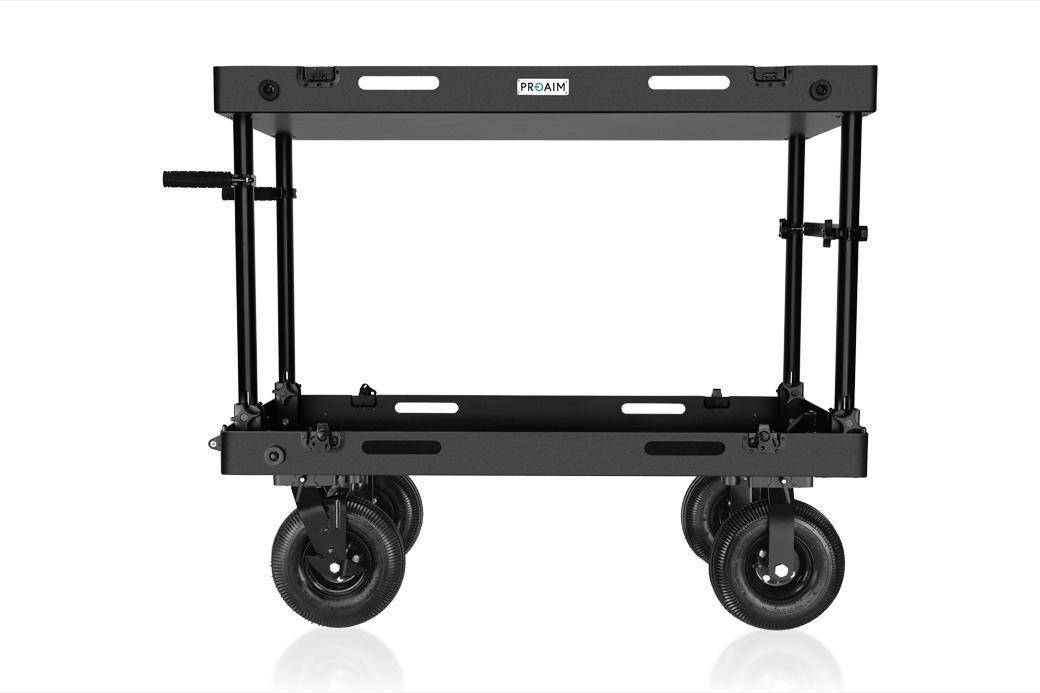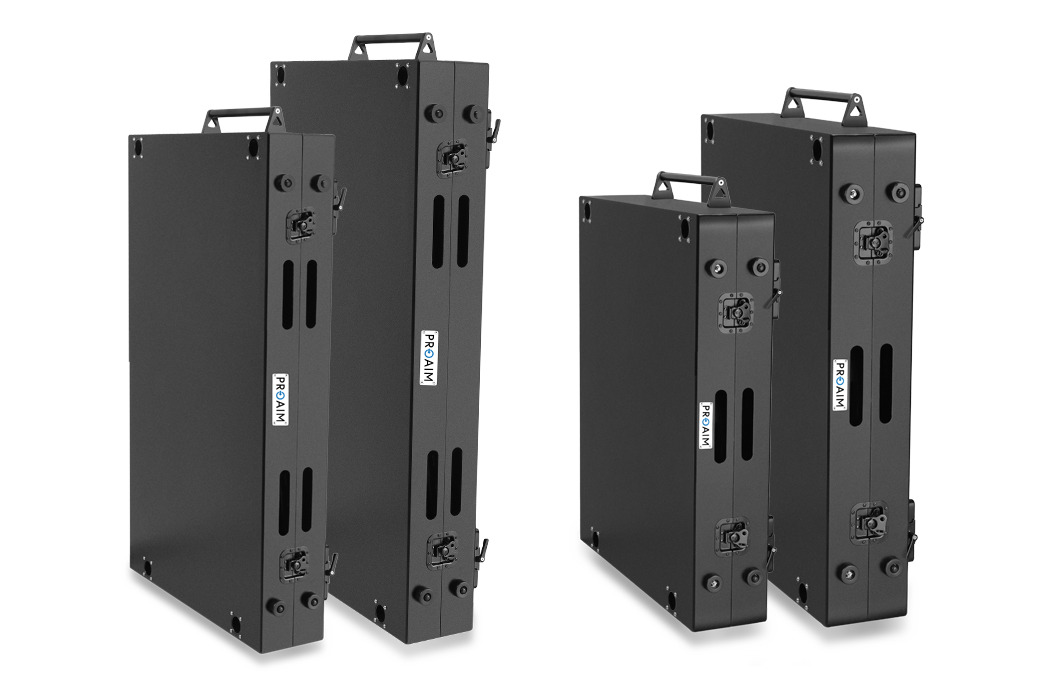 02.


Customizable to Take it Anywhere
Proaim Rock & Roller Carts are much more than a standard camera cart. These are quickly transformed into a DIT Cart, a Sound Cart, a Lighting Cart, or even an Equipment Dolly.
The Proaim Victor Lite Cart is designed for the convenience of Professional Videomakers, Filmmakers, and Photographers.
It comes with Rosette Knobs, which are easily operatable from the top.
The quick & completely tool-free to assembles / disassembles.
And within a few minutes, it collapses into a flight-ready Compact Suitcase for traveling.


03.


Advanced Wheels for Smooth Rolling
We have used Pneumatic wheels to ensure your Multi-purpose Camera Cart remains light & smooth while strolling.
One set of wheels comes with a 360° Swivel Caster & a swift foot brake.
And another set has Rigid Caster to offer smooth movement & to keep your functionality intact.
Wheels are attached to the Cart via a Dovetail & secured with a Rachet lock for quick assembly.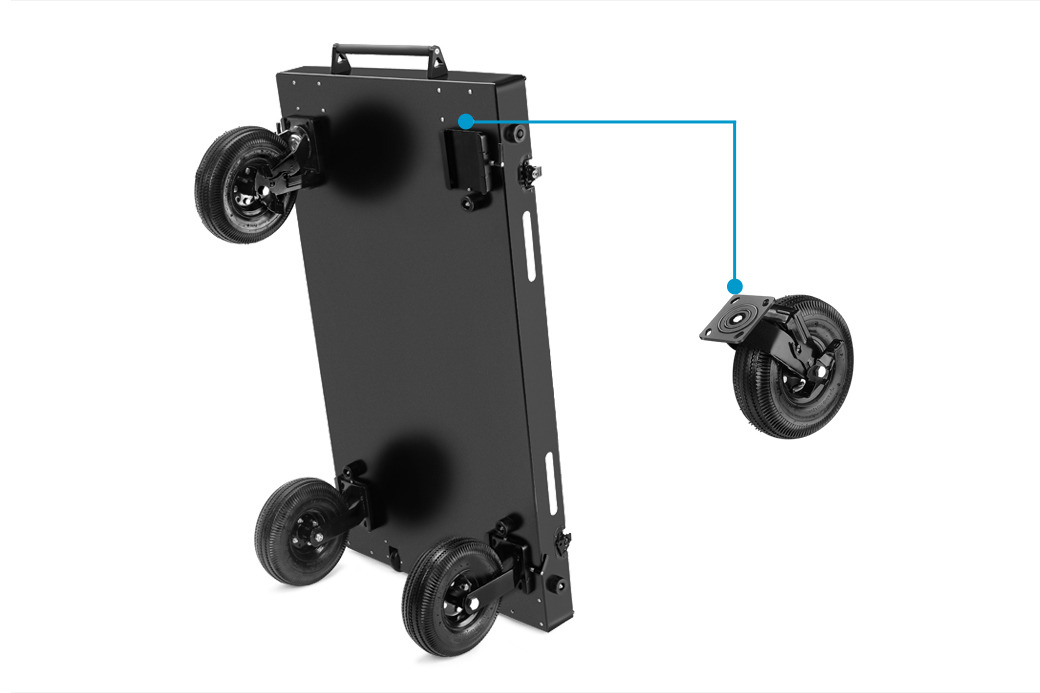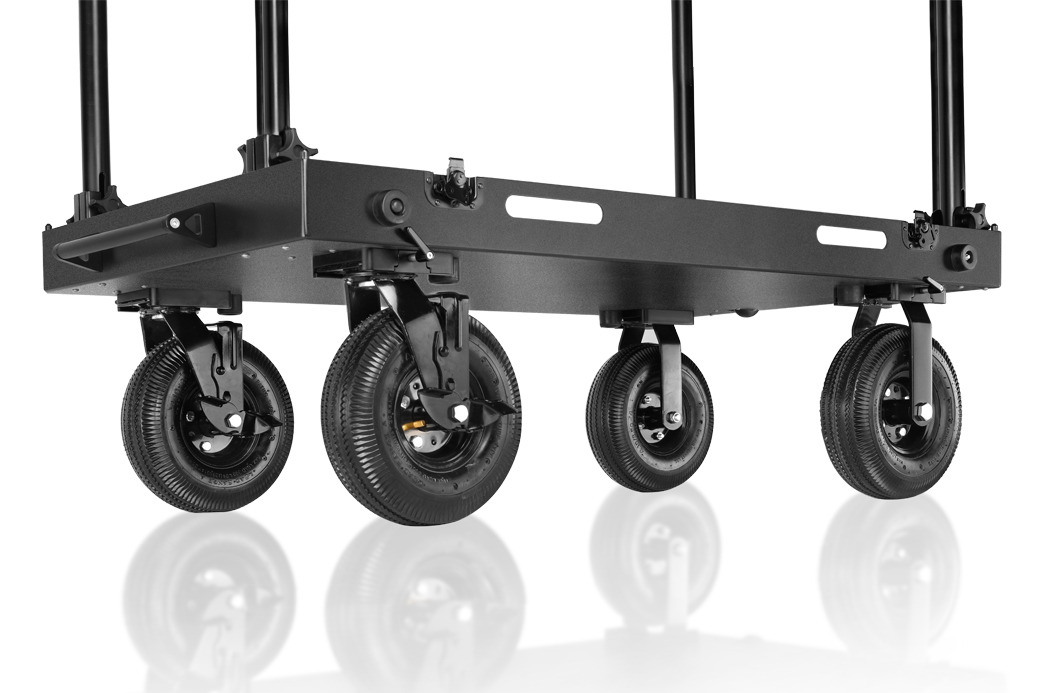 04.


Detailed Designed - Effortless to go With
It will make your life a lot easier & happier by not letting you carry your heavy equipment.
The Comfortable & Ergonomic Handles are given for a solid and comfortable hold.
The shelves are carpeted with High-Quality Matt to keep your camera equipment scratch-free & noise-free.
Film Cart is an ideal choice for your studios & outdoor locations. It is something to take where ever you go for a shoot.
Proaim Carts changes your busy & tiring shooting experience into a more organized & makes you feel more pro.


Guaranteed Fast Delivery
For all orders
Quick and Efficient
Customer service

Easy Returns
Up to 30 days
1-Year Warranty
On All Products
I'd like the total height to be shorter. If I cut the legs shorter, is there any reason they would no longer work? Assuming nothing goes wrong with the cuts, of course.

I would like to update you that the total height of assembled Victor Lite cart from ground to top shelf is 42" (as shown in the photo below). The top shelf in Victor Lite cart is fixed therefore it cannot be lower down. 
Whereas, we have another model proaim-victor-v1-1-cart , where you can adjust the height of the top shelf or can cut the legs shorter.

Is this cart also have a height-adjustable top shelf?

The top shelf of the Victor Lite cart is Fixed.

What carpet you use for the carts ?

The Black non woven carpets are used on our Carts.

The cart Max weight is 440lb is that because of the wheels or that can be increased ?

The load capacity of Proaim Victor Lite Video Production Camera Cart VCTR-LT-36 is 440 lbs. It is because of the structure and the wheels of the cart and it cannot be increased.

As far as the payload the lite is 200kg total between top and bottom? Meaning 100kg top shelf and 100 bottom? Is it because the shelves are heavier and more solid? Could they be swapped with stronger ones?

Yes, the total payload capacity of Victor Lite Cart is 200kg, The top shelf load capacity is 100kg and the bottom shelf load capacity is 100kg.

And the shelf cannot be swapped as the top and bottom shelf of Victor Lite Cart are fixed.

What are the differences between victor lite and v1.1?

The main differences between Victor 1.1 cart and the Victor lite cart are the following:

Top Shelf: Victor 1.1 cart has up & down movable top shelf
and the top shelf of the Victor lite cart is fixed.

Cheese plate: The Victor 1.1 cart has an In-Built cheese plate on the Top Shelf whereas the Victor lite cart has no cheese plate in-built.

Locking Mechanism: Both carts have different locking mechanisms.

Wheels: Victor 1.1 cart has 9" Pneumatic wheels.
whereas the Victor lite cart has 10" Pneumatic wheels.

Shelf width: the shelves of Victor Lite carts are wider than V1.1 model
the tray/shelf width of the Victor Lite cart is 27.5 inches
but the width of the V1.1 cart is 24 inches

\"I just purchased a Victor Cart Lite 48\"\" and would like to know if it\'s possible to purchase a 2nd Shelf so that I can have additional storage area on the cart \"

The top shelf and bottom shelf of Proaim Victor Lite Cart are fixed, and there is no space for any other external shelf.