Complete Solution for Any Production
Makes Storing & Carrying Your Equipment a Breeze.
01.

Cart Features:
Adjustable Shelf (1) - (L43.2" x D18") (L109.7cm x W45.7cm)
Stationary Shelves (2) - (L27.6" x D18") (L70.1cm x W45.7cm)
C-Stand Brackets Hold (18) C-Stands
Telescopic Pull-Out Ladder Holders (2)
Detachable 27.6" x 19.2" x 31.2" (70.1cm x 48.7cm x 79.2cm) Net Basket (Triple) this is Grey Box.
Front Storage Pan Holds 3 Milk Crates
(2) Full Milk Crates - (L13 1/2" x W18" x H12") (L34.3cm x W45.7cm x H30.5cm)
(1) Half Milk Crate - (L13 1/2" x W18" x H6 1/2") (L34.3cm x W45.7cm x H16.5cm)
Rear Rack Holds (15) 4 x 4 Flags - (L56" x W7") (L142.2cm x W17.8cm
Jockey Box Holds (2) Half Milk Crates
"D" Style Push / Pull Handles
Pull Bar
Wheels (2) 10" Swivel Casters & (2) 10" Rigid Casters
Foot Brake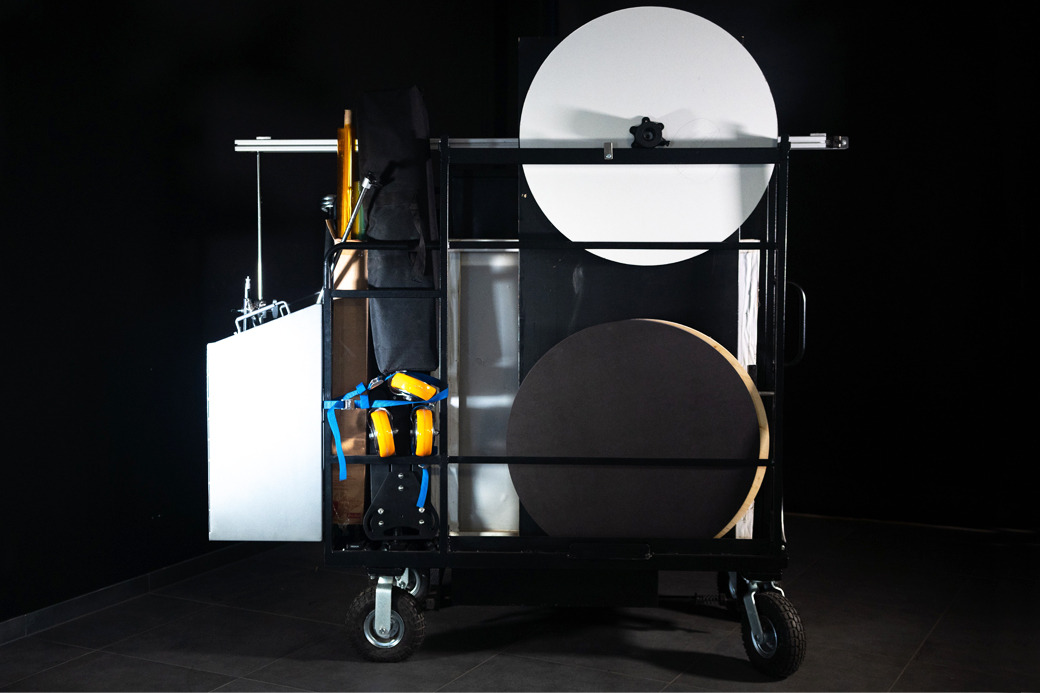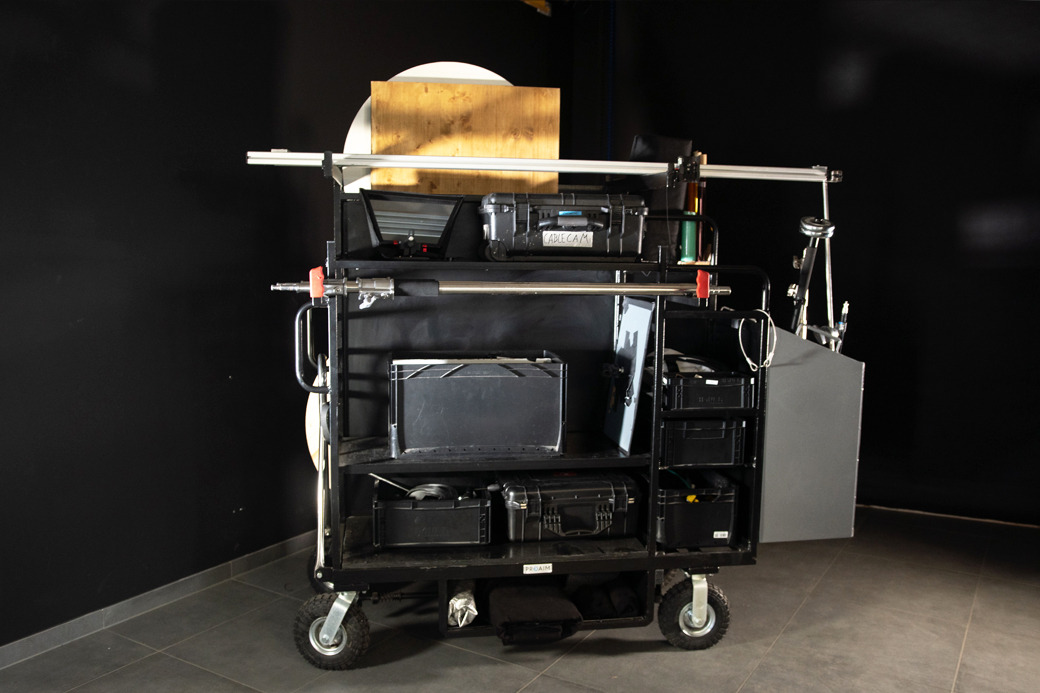 02.

Handles All Your Gear
Proaim Vanguard is a cart that handles a wide variety of equipment. It is made of high quality materials and easily takes 1100lb / 500kg payload. It optimizes storage space and makes it easier and faster to set up before filming sessions.
03.

Smooth and Sturdy Wheel System
The Proaim Vanguard Cart comes equipped with 10" Pneumatic wheels which ensures that your cart endures a load up to 1100lb / 500kg and still roll incredibly smooth and silent. The use of Pneumatic wheels instead of the industry-standard rubber wheels makes sure that the overall setup remains light, smooth and sturdy.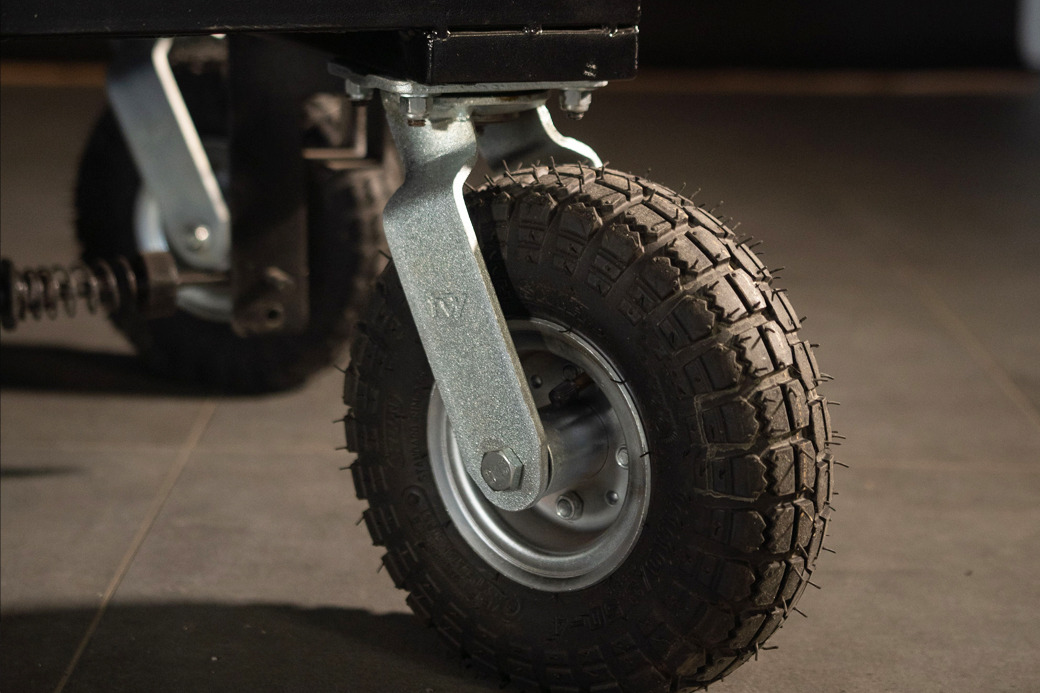 See how the Vanguard Cart Works
Foot Brakes
The foot brakes of the Vanguard Cart keep it completely steady, stable and secure for reliable parking and eliminates your worries even when you are not close to the cart. The brakes are such that they don't become loose over time even when the tires experience some wear and tear, and the thickness decreases.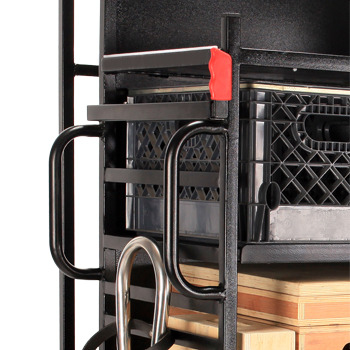 "D" Style Push / Pull Handles
High-strength handles provide ease of movement even when the Cart is fully loaded.
Pull Bar
Made of high-grade stainless steel for strength & durability. It adds further convenience for the Cart operator. The pull bar tilts down up to 120° and has friction which allows it to stay where you leave it. Pull Bar comes with rubber holder for ease of transportation.
Cart – High-grade Metal
Shelves – Wooden
Pull Bar – Stainless Steel

Diameter – 10"
Rim – 4.1"
Pressure – 50 psi

Without Packing – 150kg
With Packing – 198kg
Volume weight (with packing) – 475kg

Proaim Vanguard Grip Equipment Production Cart
Guaranteed Fast Delivery
For all orders
Quick and Efficient
Customer service

Easy Returns
Up to 30 days
1-Year Warranty
On All Products
Customer Reviews
Great cart, Great size.
I use this cart to do product demonstrations in stores. It holds a lot and rolls easily. It is sturdy and the wheels glide effortlessly. I totally recommend this cart! Great Quality, Great Price.
"What's the height and length of the vanguard grip cart? I wanna make sure it fits into my Van".

The dimensions of the Proaim Vanguard Grip Equipment Production Cart CT-VNGD-01 is  165cm(L) x 74cm(W) x 193cm(H).

What is the recommended tire pressure for the tires on the Vanguard cart.

The recommended tire pressure for the tires on the Proaim Vanguard cart is 50 psi.