Fly Your Camera through Difficult Terrains!
Captures the Smooth Dynamic Footage in Places where Even Drones Can't Go!

We make your Camera Gimbal walk in the Sky!
Offers Wide Coverage
Glides Over the Large Open Spaces like Stadiums, Live Events, Mountains, Rivers, and Captures Smooth Cinematic Shots.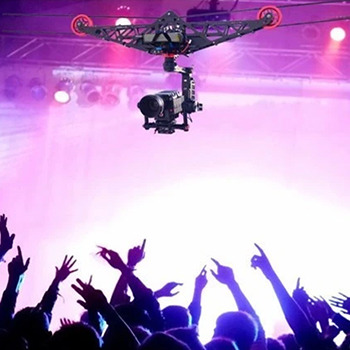 Designed with Precision
Well-Engineered Equipment with Intelligent Speed & Position Sensing - calibrates as per your needs and offers Complete Safety.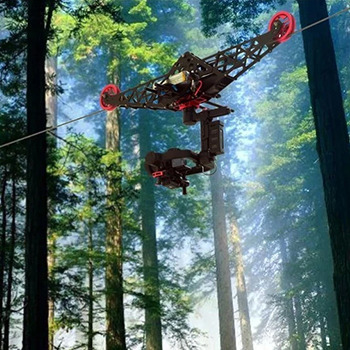 Highly Compatible
Adapts Any Camera Gimbal Setup; DJI Ronin/M/MX, Freefly Mövi & other gimbal heads, weighing up to 10kg / 22lb with a maximum speed of 25 km/hr.
See how the Sky-Walker Pro Cinema Cablecam Works
40km/h (without payload)
25km/h (with full payload(10kg)
0.83 meter /sec or 3km/hr in loop mode
Complete Product Weight Without Packing - 29.77Kg / 65.63lb
Complete Product Weight With Packing (Gross Weight) - 60Kg / 132lb
Cablecam
Remote
Chain Puller
100mtr Steel Safety Cable
Stand with 100mtr Dyneema Rope
Chain Pulley
Climbing Hooks
Flight case

01.


Professional Design
Proaim bringing you Skywalker; a point-to-point cable-cam system that is self-powered, easy & quick to set up, and operates quickly.
It is professional film-making equipment that allows shooting in open space by the remote-controlled cable-drive system.
It is a Perfect Cablecam solution for the filmmakers, which is available at a very efficient price.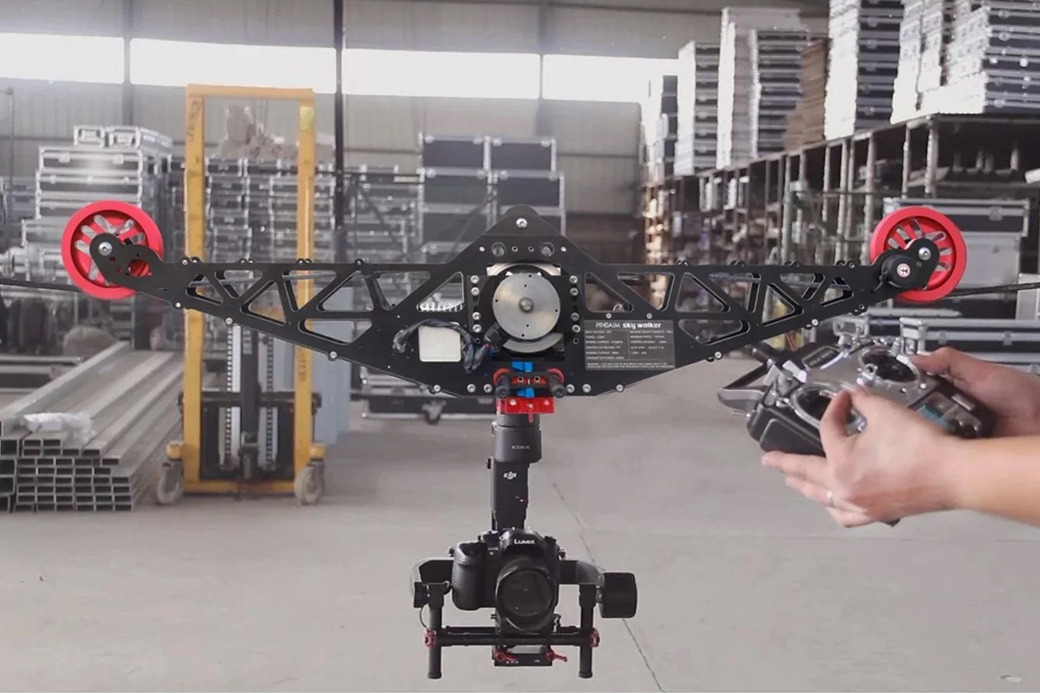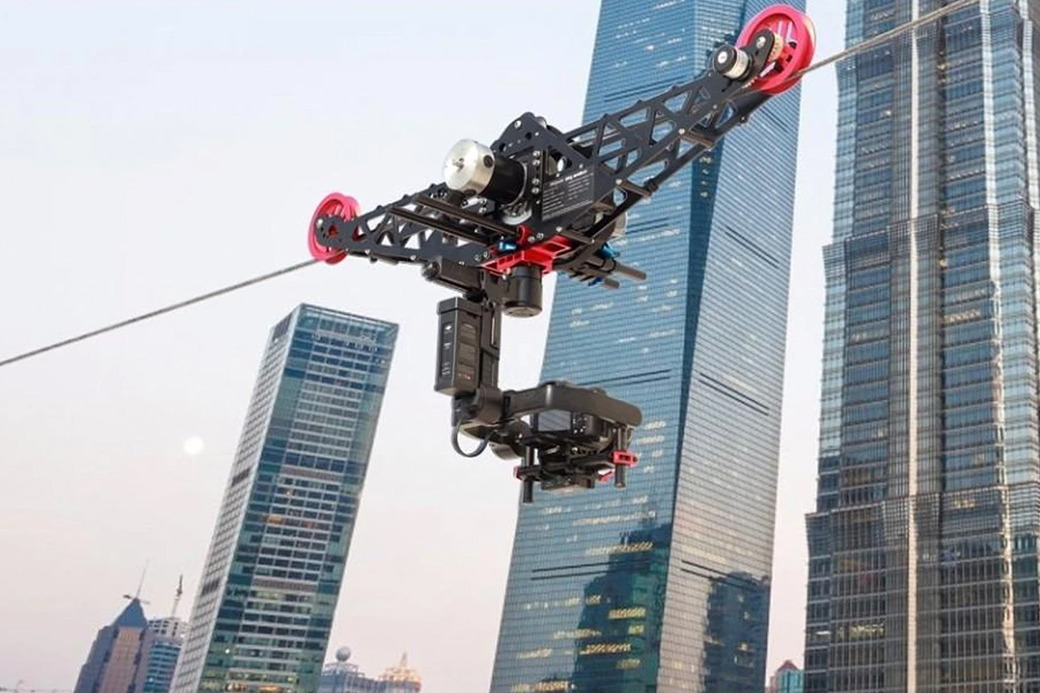 02.


High-Level Performance
All parts are made of CNC machined Aluminum with utmost precision and care, which offers 10kg/22lb of payload.
The Sky-Walker Cable Cam System provides a maximum speed of 40 km/hr without payload & 25km/hr with maximum payload and covers a long 450-meter range.
The combination of a 24V brushed DC motor with an efficient Motor Driver offers the highest level of performance.
Its highly sophisticated wireless remote-control system guarantees accurate operation and a long battery-life experience.
The onboard battery power lets you work smoothly for 20-25 minutes with a payload of up to 10kg/22lb, and it is easily detachable without disturbing the workflow.
03.


Smooth Operations
Set the targeted distance as required at any cable point, and the cable cam will follow it perfectly.
This mechanism allows you to control framing and offers movement all by yourself, resulting in a smooth ending.
It has Safety & Damping feature to secure your gear & control even the slightest shakiness.
Along with this, the Sky-Walker's automatic loop can 'ping-pong' back & forth continuously at the required speed.
The Automatic Loop System lets you be creative without the stress of crashing shots.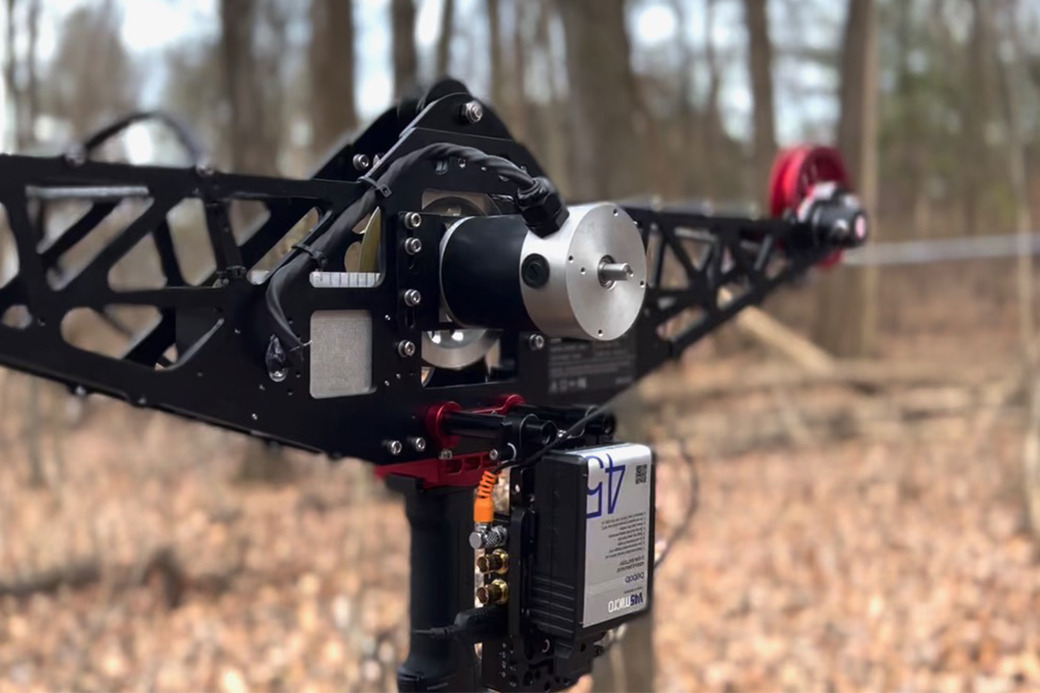 04.


Well-Engineered Motor System
The 24V brushed DC motor has enough torque to drive the camera rig without needing a gearbox that delivers silent footage.
It is the first synchronous regenerative motor driver in its class, allowing very fast stops and reverses.
And it is robust enough to supply a peak current of max 91A.
It has an overcurrent & thermal protection features which means your driver will never get damaged by accidental stalls or by hooking up a big motor.
The high-precision encoder motor works with gear that is mounted on the End wheel to ensure accurate control of movements.
It helps determine speed, position, distance, and acceleration, so every movement is perfectly smooth.
05.


Sturdy Drive Wheel

Aluminum-made U-Groove wheel with polyurethane coating ensures better gripping, enhances the drive with cable force, and prevents slipping of cable.
The PU-coated wheel offers great resistance to any kind of wear & tear and improves operation reliability.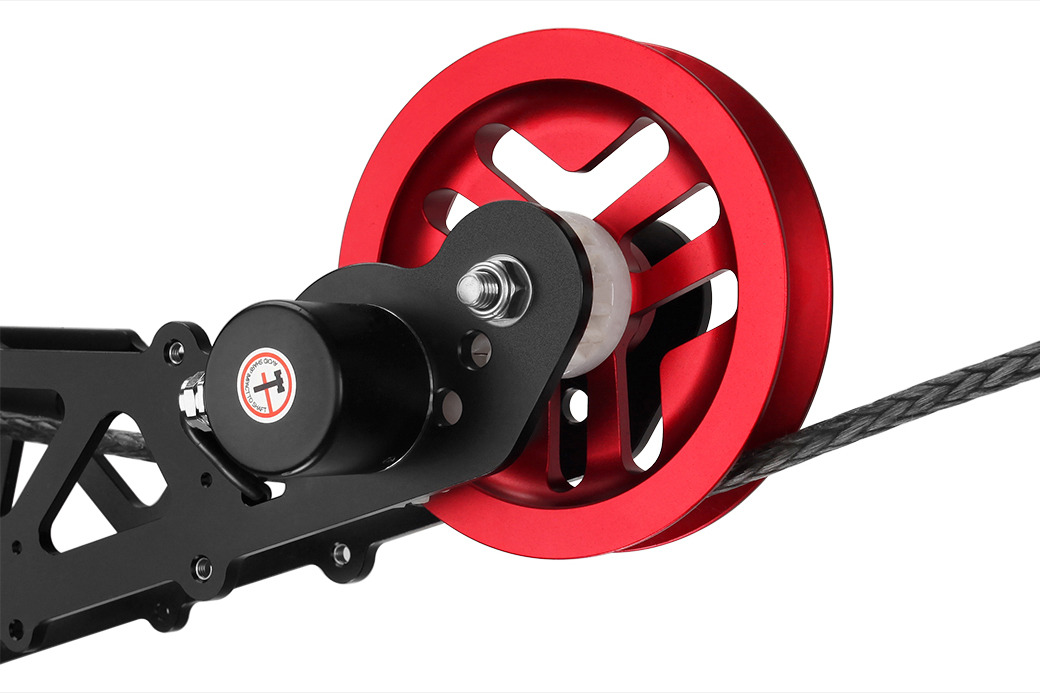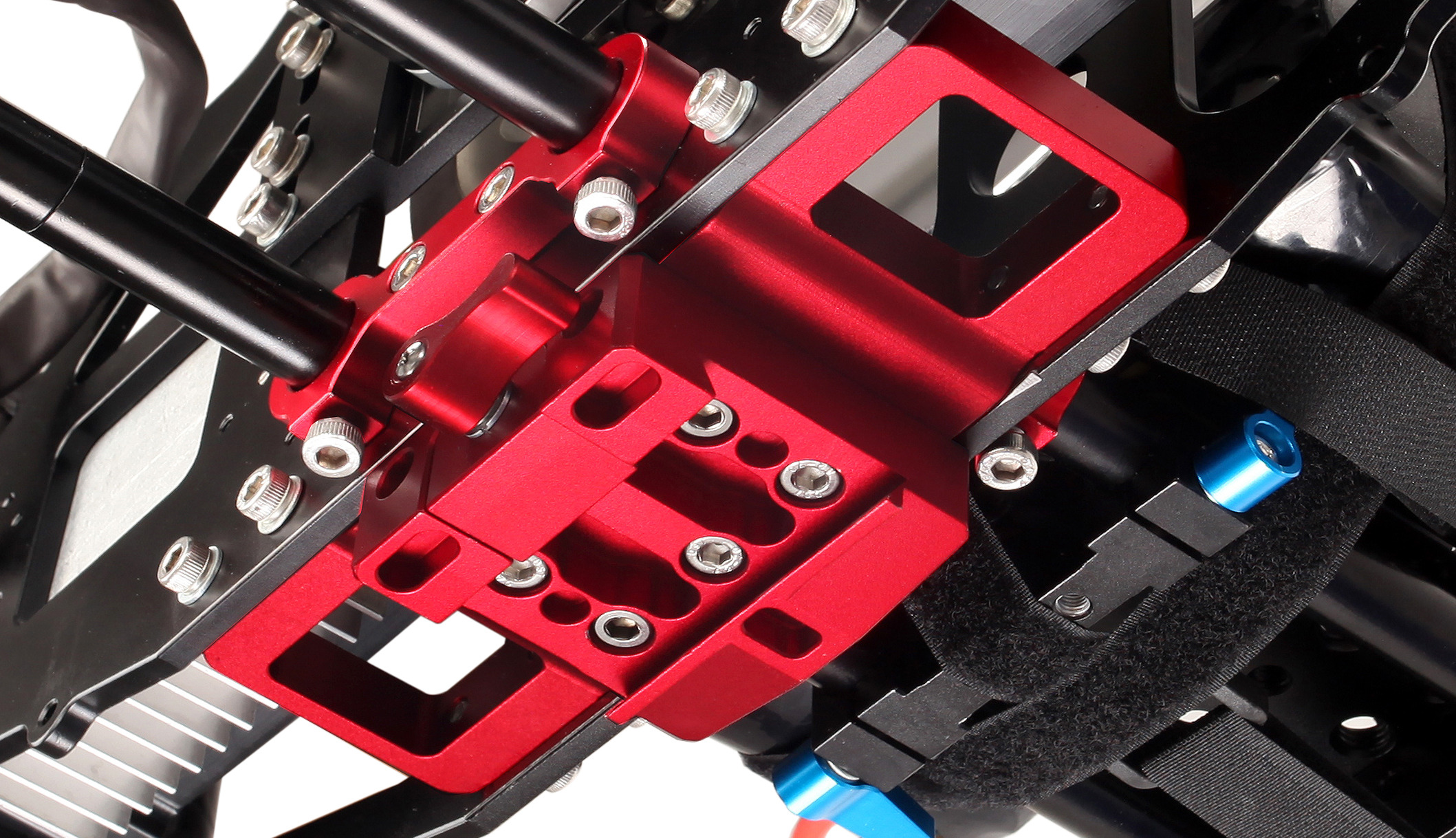 06.


Balance Bar with Ronin Mounting Plate
The Rod support bar provides physical balance to set up and a fast interface for DJI Ronin Gimbal.
Quick Release plate allows Gimbal operators to switch from cablecam to handheld stabilizer within seconds.
From unpacking and rigging to shooting takes less than 15 minutes; this saves a lot of time and energy for your work
07.


Hi-Strength Rope System
Hi-Strength Rope System The Dyneema Rope/Cable is 9mm thick, 100 meters long, and has high upholding strength.
Anchor it on large trees, strong scaffolds, light poles, or other firmly fixed objects which can withstand pulling tension of cable connection.
Now, hang the Sky-walker with Gimbal head, and you're ready to roll.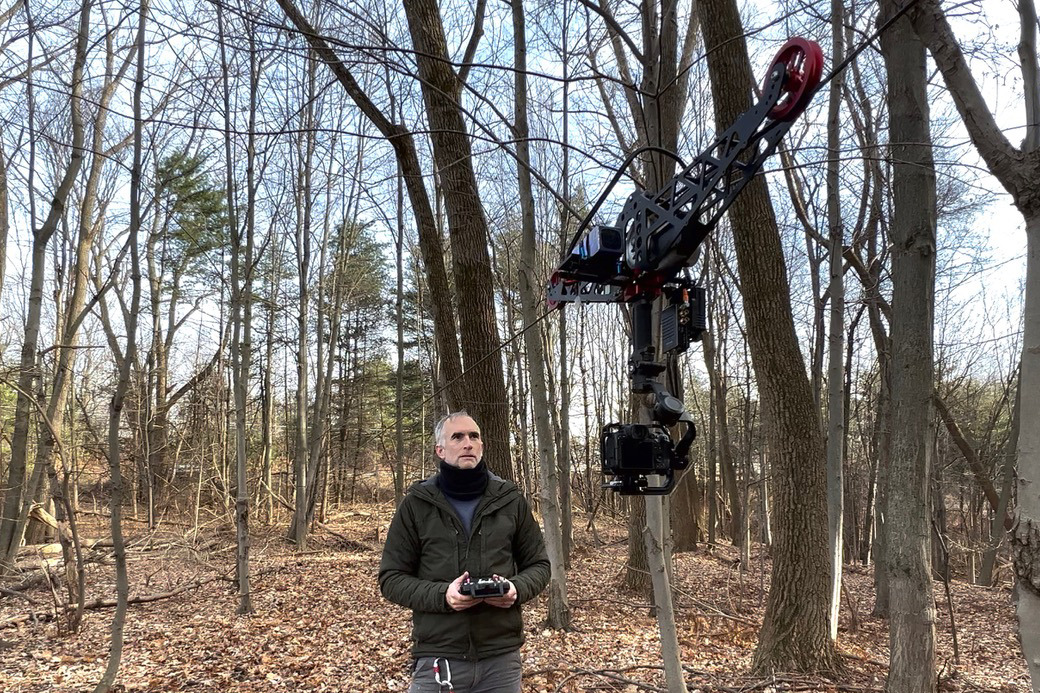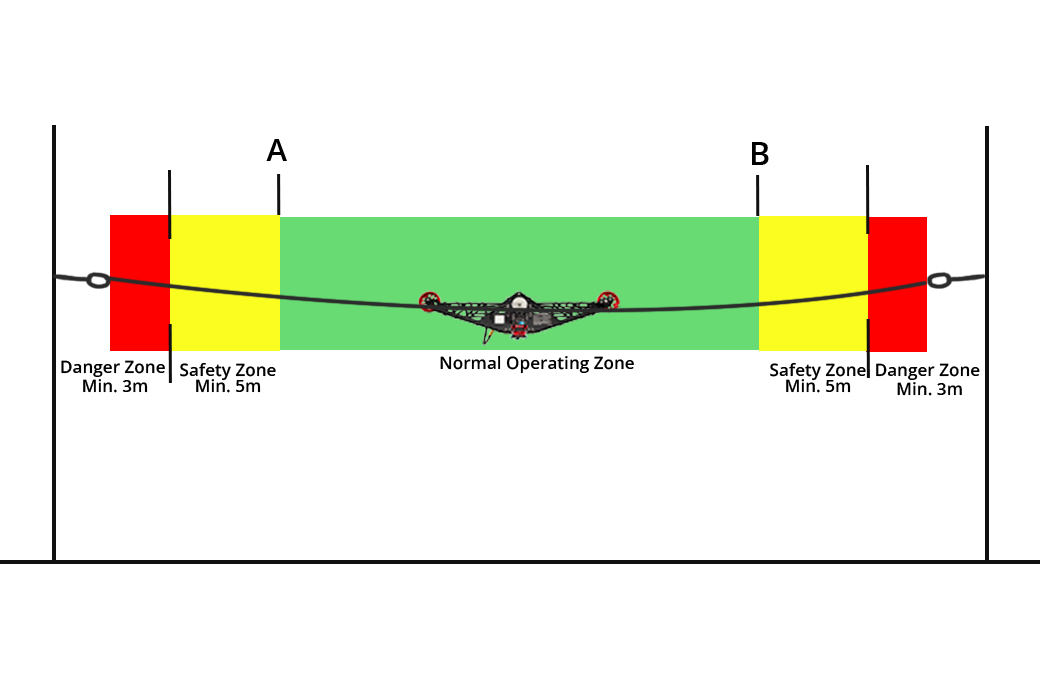 08.


Workable Zone
The recommended Operating Zone of cable is approx. 84 meter.
It is strongly recommended not to use corners within 3 meters from both sides.
And at high speed, it takes a 5-meter length for momentum to stop itself.
While selecting target distance lock points, it is suggested to consider speed & precautious zones.
09.


Advanced Remote Control System
The radio control system controls the movements of the Cablecam. It works on a 2.4 GHz powerful radio frequency band and transmits a very clear signal to the receiver Antenna.
The remote-control system guarantees a long-range, jamming-free transmission and long battery-life experience.

Turn it On - While turning on the remote every time, all throttle switches A, B, C, and D; must be at #1.
Left Stick - It gives Direction & Speed to the cablecam. Move the stick left/right for direction and up/down for speed.
Right Stick - It is used to Set Target Distance & Automatic Loop Modes.
Target Distance (Manual mode) - Set Start and Stop points anywhere on the cable by point A (move downwards) & point B (move upwards). After entering the target distance, the remote locks on it and follows it perfectly. Once you leave the stick in the neutral position, it will stop right there.
Automatic Loop Mode - Select target distance by points A & B. Shift the throttle switch labeled SwC at position #3. Set the Speed with Left Stick and forget it! It will move and capture shots automatically for you.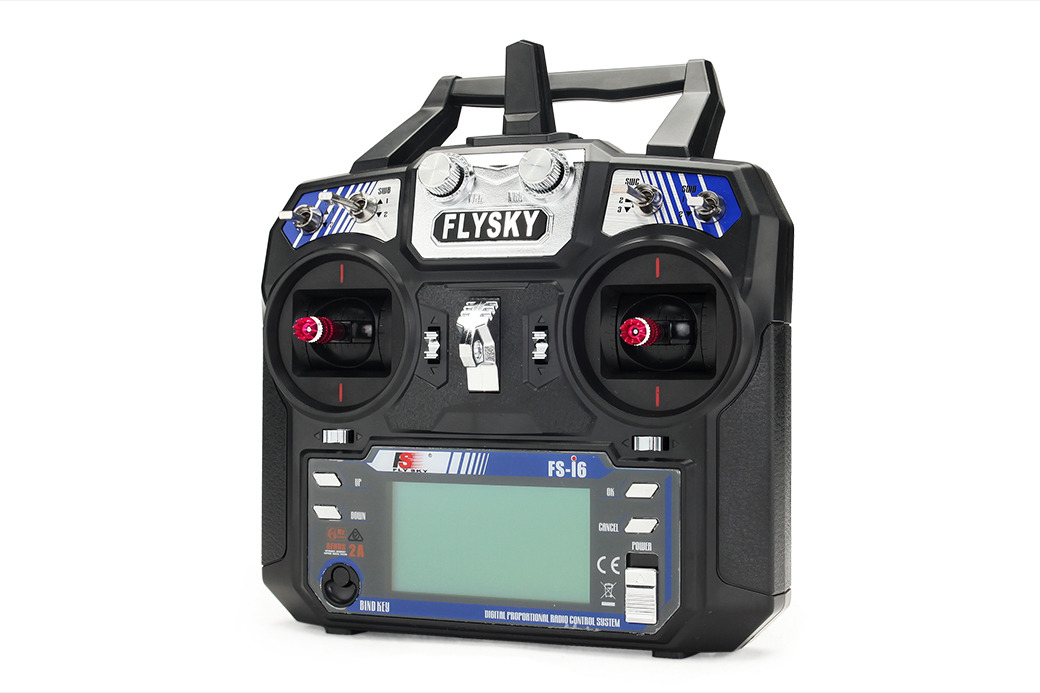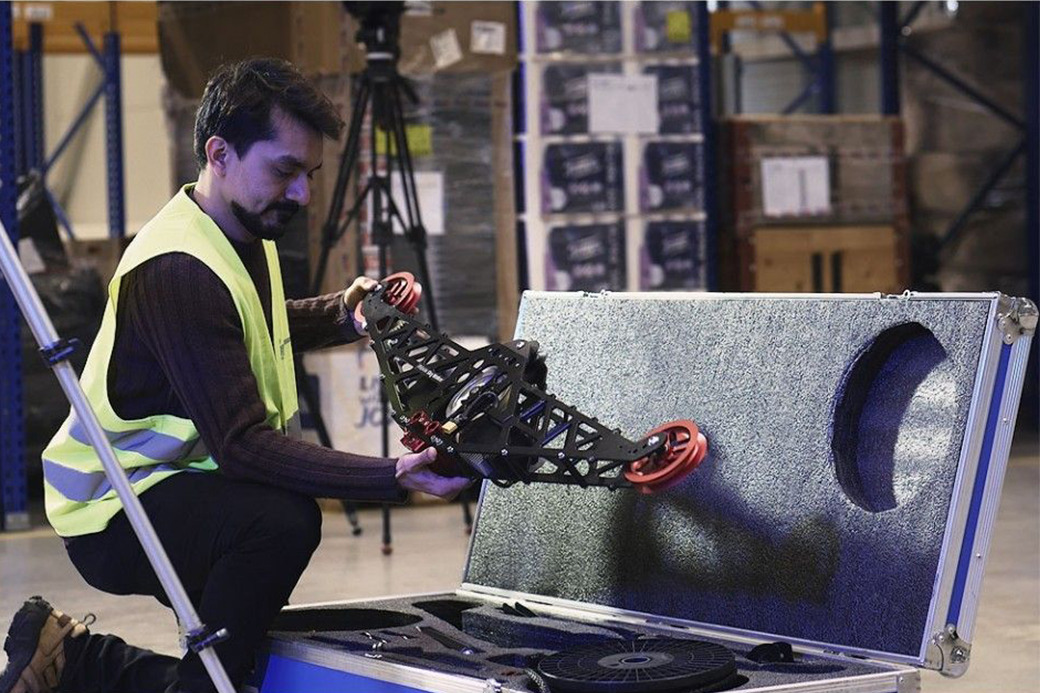 10.


Travel Friendly
Proaim Sky-Walker is light and compact. Fold it and stash it right into your Flight Case when you're on the move.
And it comes with a complete sturdy carrying solution.
Guaranteed Fast Delivery
For all orders
Quick and Efficient
Customer service

Easy Returns
Up to 30 days
1-Year Warranty
On All Products
If we use Proaim Sky-Walker in outdoor, what about wind, are there some limits to wind speed?

Yes, you can surely use the skywalker outdoors when there is normal wind.
The sky-walker itself weighs 7-8kg, now lets say your camera setup (inclusive of gimbal) weighs 5kg then your total skywalker weight including battery will be approx 15kg so in normal wind this total system will not be affected.
However, if there is high wind speed and the setup starts shaking, then the performance of this skywalker may be affected.

Is the RS3 Pro compatible with the Proaim Sky-Walker Pro?

To utilize the RS3 Pro with the Proaim Sky-Walker Pro, users will need the Proaim Quick Release Plate P-QRG.
Here is the link for the same -- https://proaim.com/products/proaim-quick-release-plate-for-hand-held-gimbals

Can I use my own receiver and transmitter with the Sky-Walker (model is a Spektrum DX5 Transmitter and a SR6100AT receiver)

We don't have Spektrum DX5 Transmitter and SR6100AT receiver so we can't check its compatibility with Proaim Sky-Walker Pro Cinema Cablecam System(P-SWCC-10).

Do I need to buy the battery separately?

Yes, you have to purchase the battery and charger saperately for the Proaim Sky-walker Cable cam.
Link for Battery and charger for Skywalker: https://proaim.com/products/proaim-battery-charger-for-sky-walker-cable-cam-system

I have a Ronin RS-2 gimbal for the camera. What accessories do I need to connect it to the Cablecam?

The accessory that you will need to mount the Ronin RS-2 gimbal on the Sky-Walker Cable Cam system is Proaim Quick Release plate for hand-held Gimbals (P-QRG)
Link for P-QRG:
https://www.proaim.com/products/proaim-quick-release-plate-for-hand-held-gimbals

Can I fly over people with this system (for example at concerts) or is the system not suitable for this?

Yes, Proaim Sky-Walker is totally safe to fly over the audience during concerts.