Proaim Atlas V2 Video Production Camera Cart
Save

Liquid error (product-badge line 32): -Infinity

%
---
---
What Makes Atlas V2 Cart The Best Choice?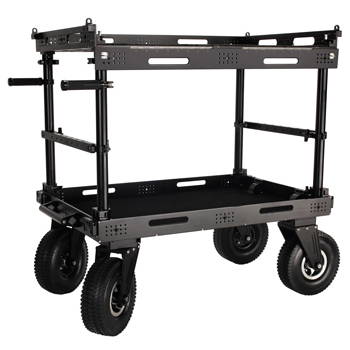 Stable and Sturdy
Solid Aluminum Construction ensures stability even when loaded to the max payload of 500kg/1100lb.
Compact and Quick
Tool-less Assembly/Disassembly within 2-3 minutes. Quickly Packs down to a 7" thick rollable case.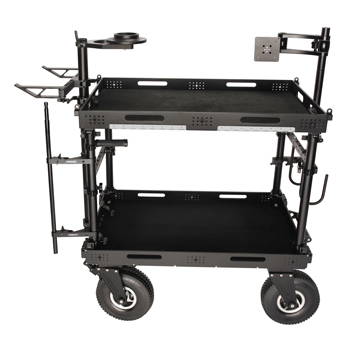 Adaptable
Multiple accessories are available to calibrate this Cart into precisely what you need.
High Grade Aluminum and Stainless-Steel
Assembled: Length 38'' Width 25.75'' Height 41"
¼" -20, 3/8" -16 threads, Arri Standard Nato mountings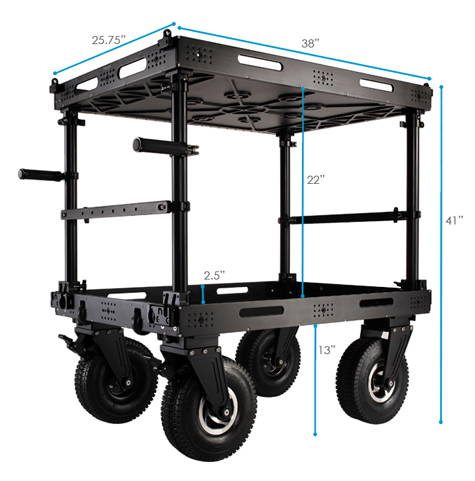 Proaim Atlas V2 Video Production Camera Cart
Cross-Bar Mounting Diameter
Diameter – 10 inch
Width – 3.5 inch
Alloy Rim Diameter – 4 inch
Tyre Pressure 30 psi
Product Weight (without packing)
Packing Weight (with packing)
78 x 110 x 40 cm / 31" x 43" x 16"
Highly Customizable Film Cart
The Proaim Atlas V2 Cart is much more than a standard camera cart. Modular by design, it allows you to attach gimbals, monitors, baby pins, laptop plates, and anything else you might want to use with it. Choose from over 50 different accessories and you can transform it into a DIT Cart, a Sound Cart, a Lighting Cart or even an Equipment Dolly.

The built-in ¼" -20 and ARRI standard 3/8" -16 threaded holes offer creative mounting options on the Cart.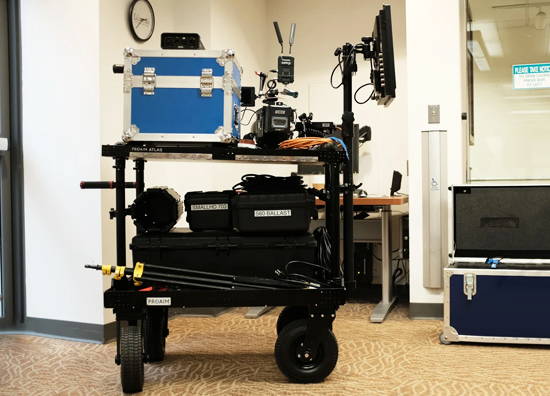 Very Convenient Design
The Proaim Atlas V2 Cart has been designed with the convenience of its user in mind.

An average Assembly/Disassembly Time of 2-3 minutes, Tool-less Design and its ability to Collapse into a Compact 7" Thick Suitcase makes it the most user-friendly Cart out there.

Simply put, the combination of these features helps you in saving the precious time on-set and makes it super easy to travel.
New Adjustable Handles
The new and improved handle grips incorporate a hinge locking mechanism that allows you to remove or adjust the position of the handle quickly and easily without removing the top shelf. It helps in creating leverage needed while lifting the Cart quickly over obstacles, stairs or other incline surfaces.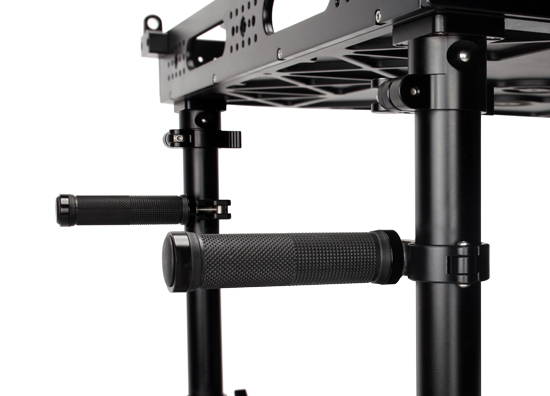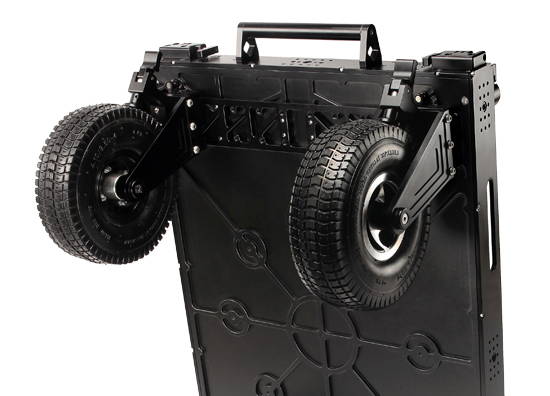 Advanced Wheel System
The Proaim Atlas V2 comes equipped with 10" Tubeless Pneumatic wheels and 100% sealed bearing housing, which ensures that your Cart endures any load placed upon it and still roll incredibly smooth and silent.

The use of Pneumatic wheels instead of the industry-standard rubber wheels makes sure that the overall setup remains light, smooth and sturdy.

2 x 360° rotatable rear wheels and two non-rotatable front wheels make cart steering extremely smooth and easy.

The wheels attach to the Cart via a Dovetail Mechanism that ensures quick assembly and disassembly.
Always in Control
The specially designed foot brakes of the Atlas V2 Cart keep it completely steady, stable and secure for reliable parking and eliminating your worries even when you are not close to the Cart. The brakes are such that they don't become loose over time even when the tires experience some wear and tear, and the thickness decreases.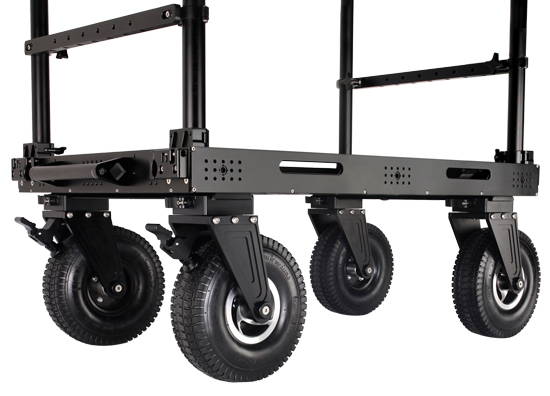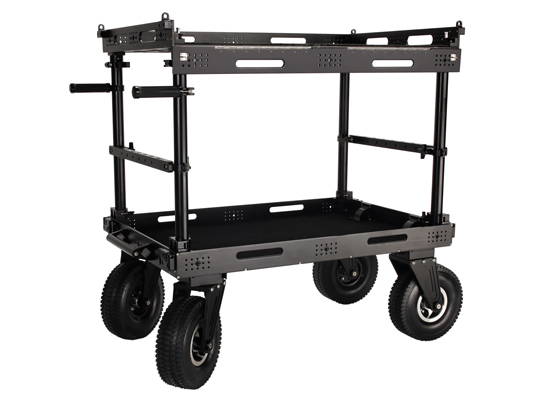 Grip Cutouts
The Atlas V2 features new Grip Cutouts on both the shelves of the Cart. These allow you to lift the Cart from both sides and load it into the truck or other vehicles. You can also use these to lift the Cart over obstacles or move it from one place to another.
Travel-Friendly
Altas V2 can break down and stored in a few minutes. By design, the Atlas V2 is built to collapse on itself when not in use, making it incredibly easy to transport from one location to the next. No longer are you in need of a grip truck to bring your equipment to the next location, when now it all can sit firmly in the trunk of a midsized Sedan.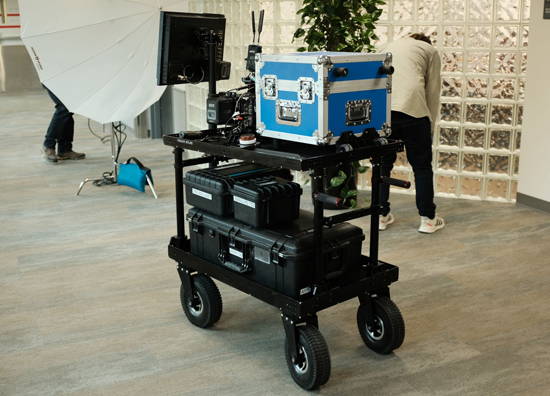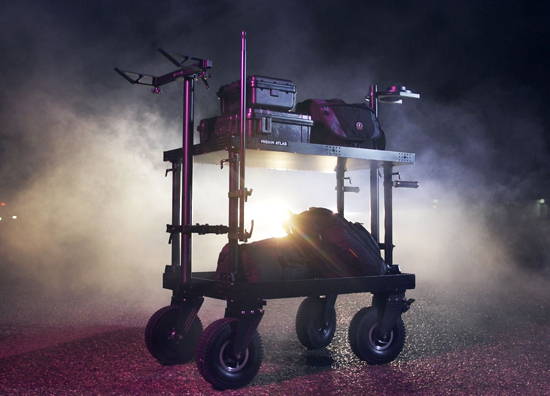 Built to Last
The Atlas V2 cart is built with long hard-working days in mind. Constructed of aluminum, the Cart itself is incredibly robust in design. Most importantly, its collapsible design seems to have been done with zero sacrifices on the build quality of the Cart as a whole. The machined crossbars add rigidity to the Cart. At no moment whatsoever does the cart sway in its rigidity. Our emphasis on using only the best quality of raw materials makes sure the Cart lasts you a lifetime and is super stable even when fully loaded.
Increase the Versatility of your Proaim Atlas V2 Video Production Camera Cart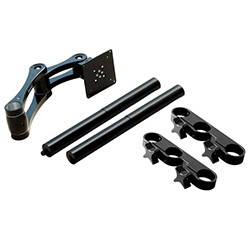 The Proaim Monitor Arm System offers smooth range of horizontal articulation. It can support displays and iMacs that weigh up to 25kg / 55lb and the maximum reach of arm is 16.75in.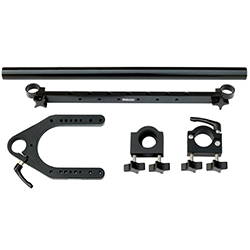 Proaim Camera Mount System provides a stable yet adjustable camera platform for the Proaim Victor equipment cart. It has the capability to accept multiple Horseshoes and Camera Plates which allows one system to hold multiple camera configurations.
---
Guaranteed Fast Delivery
For all orders
Quick and Efficient
Customer service

Easy Returns
Up to 30 days
1-Year Warranty
On All Products
---
Have a Question?
Be the first to ask a question about this.
Ask a Question