Built To Haul & Maneuver Your Heavy-Duty Gear Effortlessly.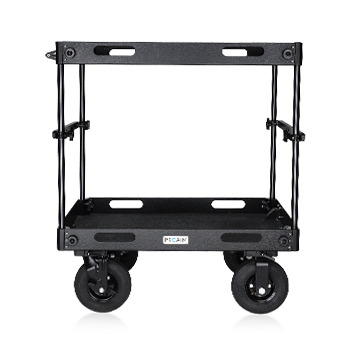 Stable and Sturdy
Aluminum And Mild-Steel Construction Ensures Maximum Stability with A Payload Of 200kg/440 Lb.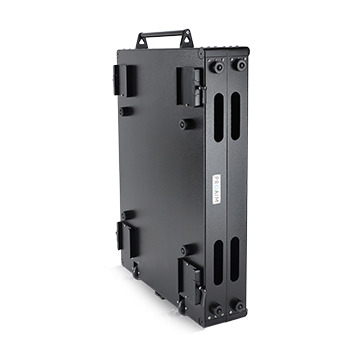 Compact and Quick
Tool-Less Assembly/Disassembly Within 2-3 Minutes. Collapses Into a Thick Rollable Case.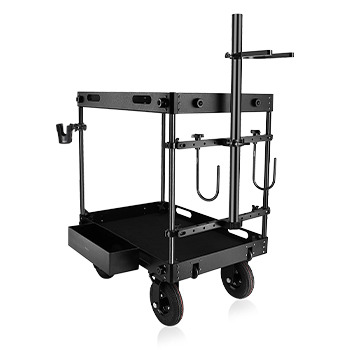 Adaptable
Multiple Accessory Mountings Are Available to Calibrate This Cart into Precisely What You Need.
See how the Bowado Pro Video Camera Cart Works
Cart: High-Grade Aluminum
Rods: Mild Steel
Diameter: 9", Width: 2.5", Silver Steel Rim: 4.4"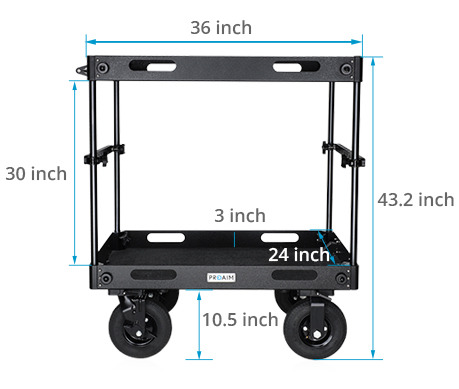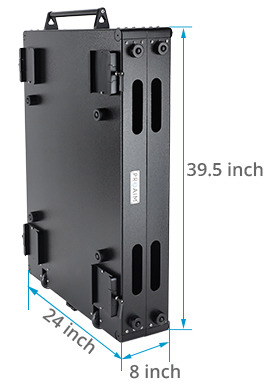 Product Weight (without packing)
Product Gross Weight (with packing)
Top Shelf
Lower Shelf
2 x Pneumatic Tires with Break
2 x Pneumatic Tires without Break
4 x (31" Length) Rods
Carrying Handle
1 x Cross Bar with Bush
4 x Knobs
4 x Bolts
4x Screws
2x Allen Key L-Type (Size: - 6mm,4mm)
01.

Handles All Your Gear
Introducing Proaim Bowado Pro 36" Video Production Camera Cart - a 2-tier equipment cart that effortlessly steers your gear around the set while giving complete access!
The top-quality Cart can be transformed into a DIT Cart, a Sound Cart, a Lighting Cart, or Equipment Dolly.
Its robustly built high-grade aluminum and mild-steel design can easily withstand up to 200kg/ 440lb.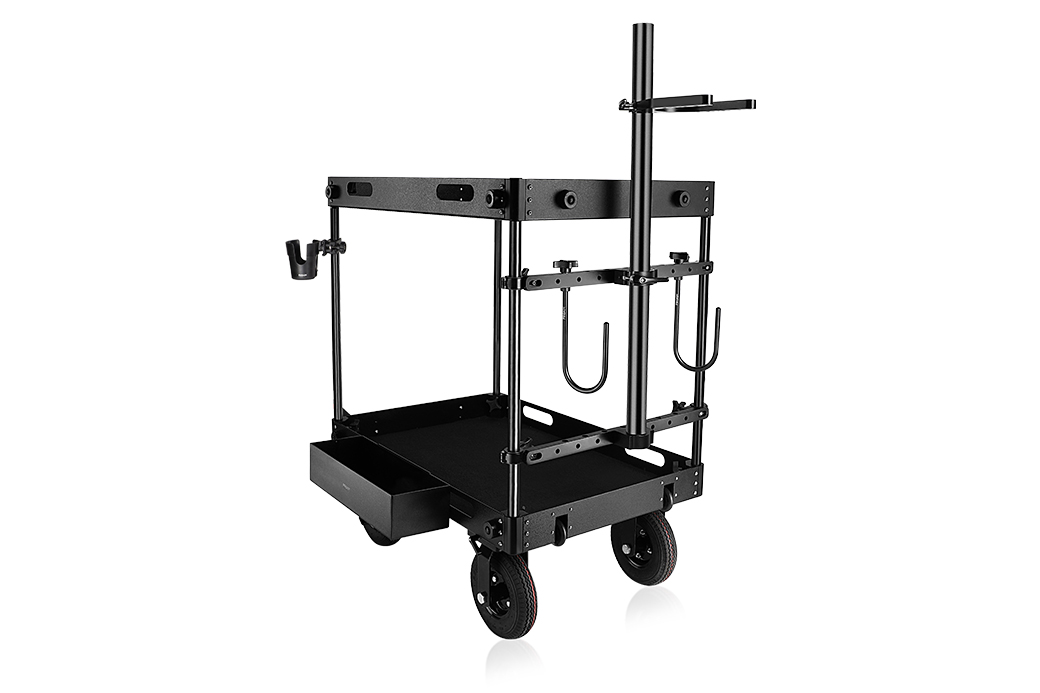 02.

Creative Mounting Possibilities
The Cart comes with a pair of Crossbars that mount to the side of the Cart without bargaining on its security or stability.
The Crossbars provide incredible accessory mounting flexibility with multiple free and 3/8" threaded holes for various photo/video accessories, offering a convenient way to customize the Cart per your preferences.
03.

Smooth and Sturdy Wheel System
The Proaim Bowado Pro Cart comes equipped with 9" Pneumatic wheels, which ensure that your Cart endures a load up to 440lb / 200kg.

The use of Pneumatic wheels instead of the industry-standard rubber wheels makes sure that the overall setup remains light, smooth and sturdy.

The stainless steel bearings withstand a lot of wear & tear and enable the Cart to roll very quietly and effortlessly, even on uneven terrains.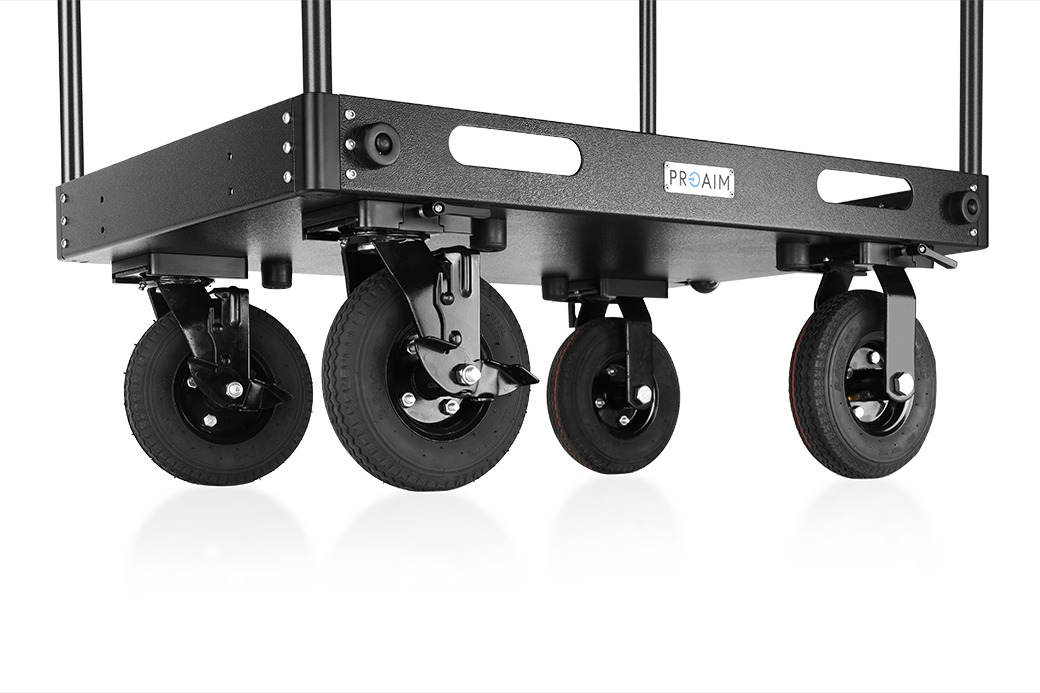 04.

Highly Adaptable
The Top Shelf adjusts up or down on rods for your preferred standing height via the provided locking knobs on each corner.
We have incorporated a handle at the side of the Cart that facilitates ease of movement even when the Cart is fully loaded.
The Black non-woven Carpet lining on both shelves creates a softer surface for storing equipment, protecting them from rolling around.
The Cart has an enhanced shelf design with spacing for gripping for easier transportation when collapsed.
Guaranteed Fast Delivery
For all orders
Quick and Efficient
Customer service

Easy Returns
Up to 30 days
1-Year Warranty
On All Products
how much does the bowado pro cart weigh?

The weight carry capacity of Bowado Pro 36" is 200 kg and the weight of the cart itself is 35.7kg (w/o packing)
Whereas, after packaging, the box weight is approx. 55kg

Do you have the travel bag? Will all the cart accessories you offer work with the Bowado?

No, we don't have the traveling bag. Yes, all the recommended accessories will work with the Bowado.

What carpet you use for the carts ?

The Black non woven carpets are used on our Carts.

"Is there a way to attach a monitor on a Bowado Pro 36" ? If yes, which accessory do you recommend ?"

Yes, the monitor can be attached to the Proaim Bowado Pro 36" cart with the help of VCTR-MA for monitor attachement with the help of bush
(ref: https://prnt.sc/4FBg34Jw_hkq)