Sort your Set Life & Make It More Efficient!
A Modern Cart for Your Modern Sound Equipment!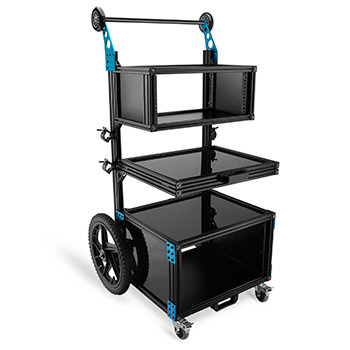 Sleek & Stylish
Looks that Make You Stand Out in The Crowd!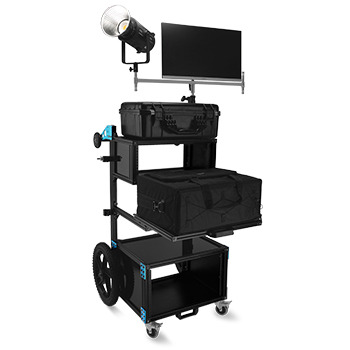 Lightweight Yet Strong
Withstands Swaying and Remain Solid Under Heavy Loads!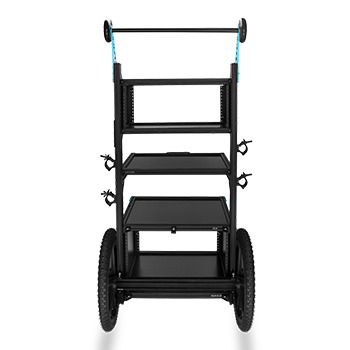 Easy Transit
A Perfectly Sized Cart: Fits into the Boot of Almost Any Vehicle!
Body: High‐Grade CNC Aluminum
Shelves: Toughened Glass with Aluminum Base
10U of 19" Rack Space (Bottom Case: 6U & Top Case: 4U)
Rear Wheel
Type: Pneumatic
Diameter: 16"
Wheel Size: 47‐305 (16*1.75)
Front Wheel
Type:Castor Revolving Wheels
Diameter: 3"
Wheel Size: 3"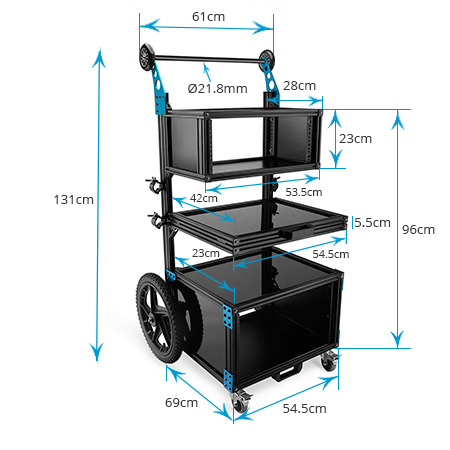 Product Weight (without packing)
Product Volumetric Weight (with packing)
01.


Efficient On-set Life
Make your & crew's on-set life easier and workflow more efficient with Proaim Soundchief Cart that moves your sound/audio equipment with ease while still giving you access to the systems.
It is a vertical-styled cart designed for your Complete Sound Crew, be it an audio mixer, a boom operator, or a sound utility person, a well-suiting cart for everyone's needs.
This gorgeous sleek cart has a refined aluminum body outfitted with toughened glass that makes no compromise in terms of features, looks, and functionality.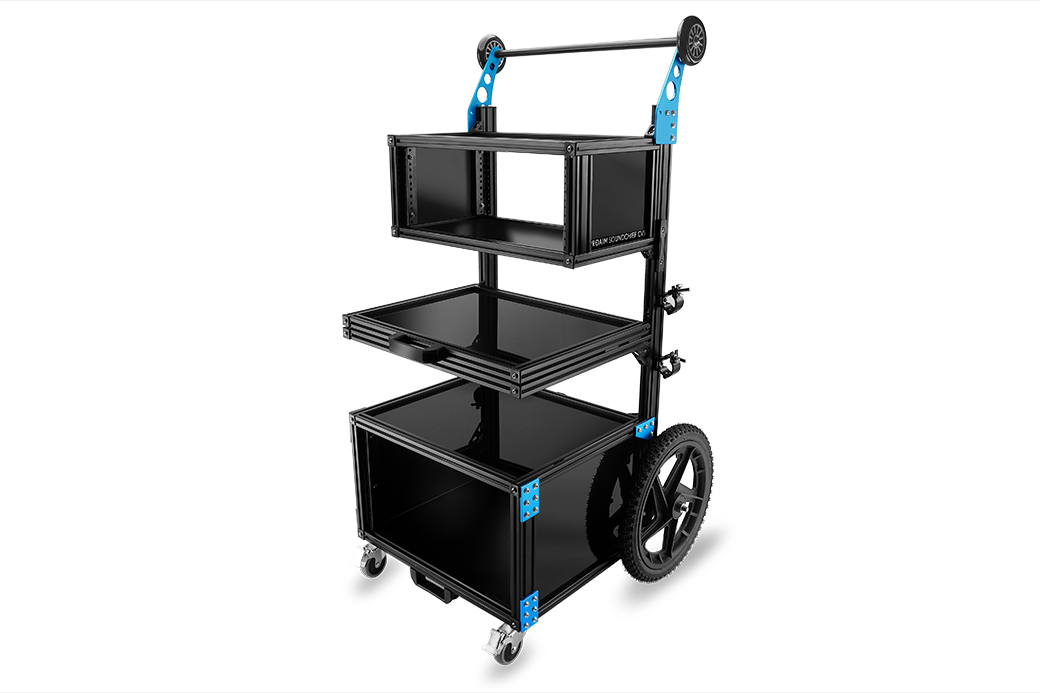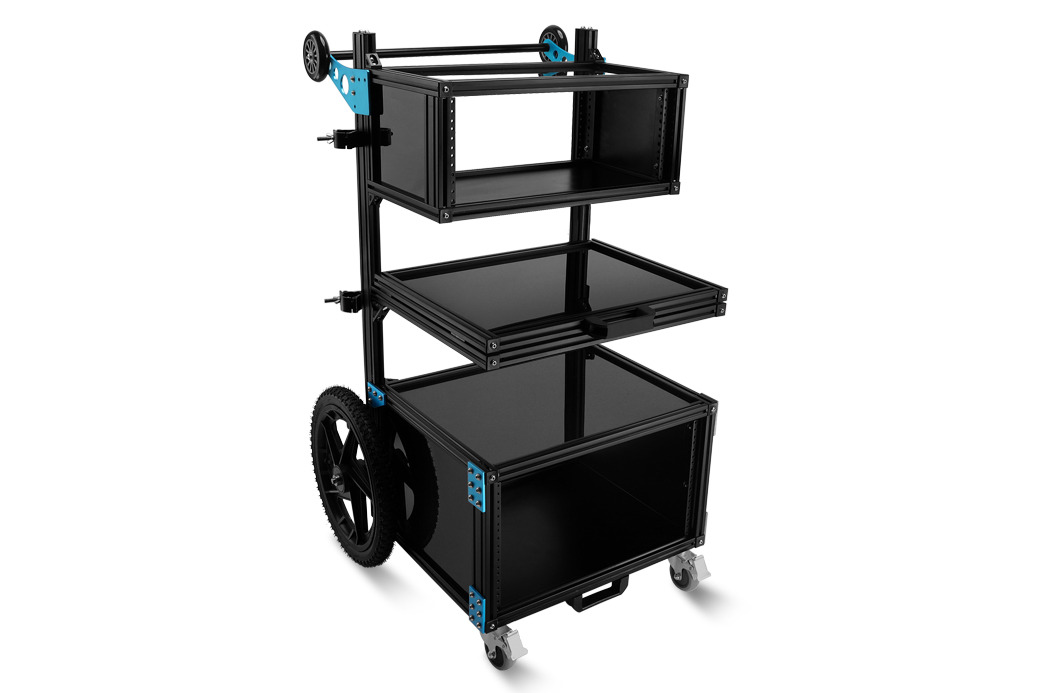 04.


Convenience For You
It has 10U of 19" rack space, 6U on the bottom case, and 4U on the top and in the middle is a slider shelf with a push-pull friction mechanism accompanied by the handle for ease.
Also, the cart has a boom pole holder and C-Stand/antenna mast mount, which add more convenience to the cart.
It features an excellent ability to hold cases, stands, boom, cabling, monitors, and a work surface.
03.


Roll-it Anywhere
The Cart rolls incredibly smooth and silent with reliable and lightweight two front swivel castor wheels and two rear pneumatic wheels.
These pneumatic wheels ensure that the entire setup remains light, smooth, and robust.
The front wheels come with specially designed foot brakes to keep it completely steady, stable, and secure for reliable parking, even when you can't be close to the Cart.
Plus, the Cart also has top wheels and a handle on the bottom that allows it to lay back for easy transportation.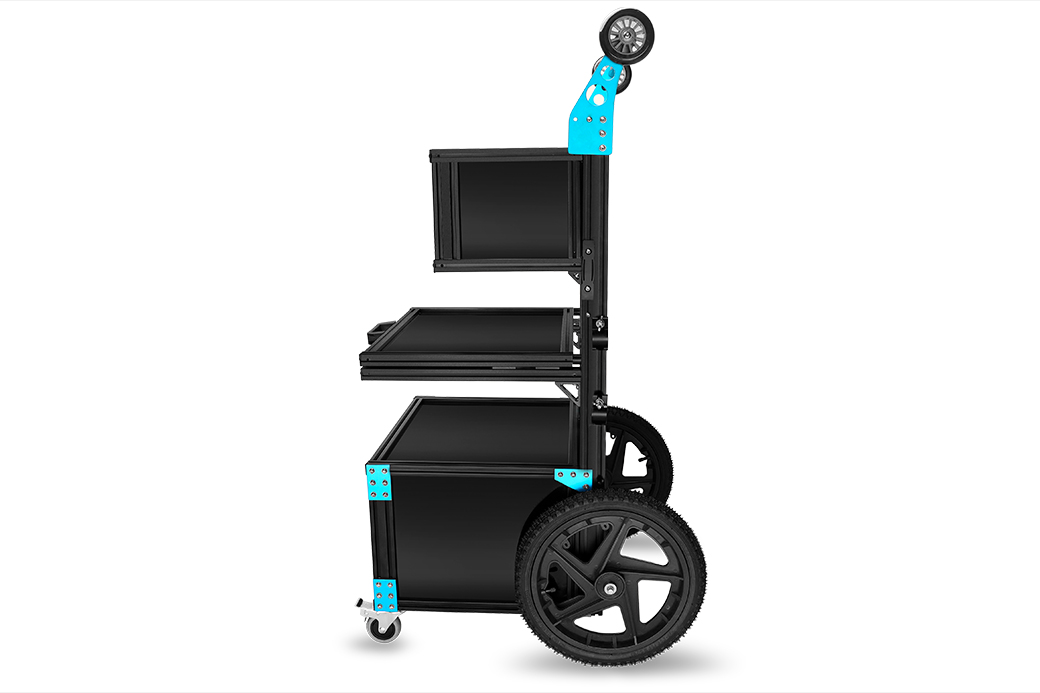 04.


Effortless To Go With
The whole Cart is designed in the channel version so that you can fix the shelves wherever you want.
It resists swaying, remains stable under heavy loads, and takes less time to assemble or dissemble using the two included hex wrenches.
This versatile Cart with a smaller footprint easily fits into the boot of your vehicle; You can effortlessly roll the Cart to any SUV hatchback or truck and even tilt it back to roll into place safely for transportation.
Guaranteed Fast Delivery
For all orders
Quick and Efficient
Customer service

Easy Returns
Up to 30 days
1-Year Warranty
On All Products
Can you confirm is it safe to drill holes into this platform? To mount equipment to the sliding platform ?

There is no possibility to drill holes into the platform of Proaim Soundchief CV5 Professional Sound Cart.