---
Pull Off Creative & Powerful Cinematic Shots Without Sacrificing Your Convenience!
Deliver Excellence in Every Shot!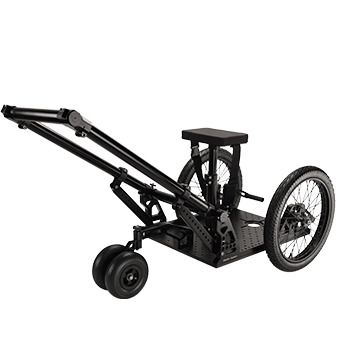 Your Comfort & Convenience First!
Comes with a Seat + Adjustable footrests for the Operator Comfort.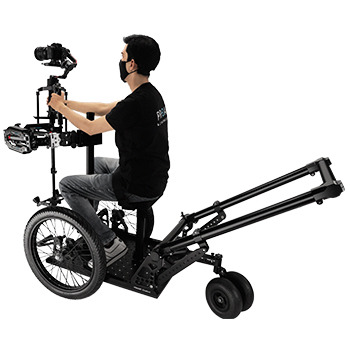 Lead Free with Smooth Ride!
Has pneumatic wheels that roll incredibly smoothly & silently with a hefty load of 200kg / 441lb.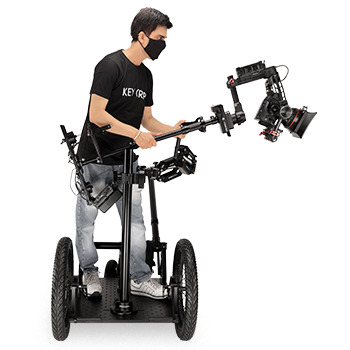 Shoot with Versatility!
Cheese Plate platform + Mitchell mount offer you incredible mounting flexibility
See how the Cinebird Camera Rickshaw Dolly Works
Length: 29"
Width: 20"
Ground Clearance : 14cm
Tool‐less: No
Size: 21"
Thickness: 2.5"
Wheel Type: Pneumatic
Distance between wheels: 78cm
Tire Width : 3.1"
Wheel Type: Pneumatic
Wheel revolving Lock: Yes

Minimum height: 47cm
Maximum height: 77cm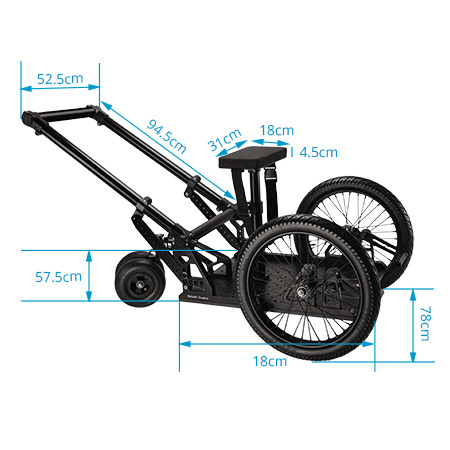 Product Weight(Without Packing)
Product Volumetric Weight(With Packing)
Proaim Cinebird Camera Rickshaw Dolly
01.


Steady Movement with Smooth Shots
Take the audience on a ride to your character's world with Proaim Cinebird Rickshaw Dolly, which offers smooth and precise camera movement while creating amazing cinematic effects.
It lets you capture walking to running speed shots with 3-axis Camera Gimbal, Handheld, and Steadicam setups.
And it comes in handy when you don't have enough time or space to lay down the traditional track but still need to follow your subject smoothly.
The Rickshaw is cleverly constructed with Solid Aluminum and offers an impressive payload of 200kg/441lb.
02.


More Comfort & Convenience to You
We aim to provide you with a more effortless, more convenient experience for the utmost comfort.
Thus, Cine Bird offers a comfortable seat that lets you execute shots with ease, avoiding fatigue by operating comfortably from a seated position.
Also, the seated position allows the operator to position the camera to reach floor level for ultra-low shots.
The seat is fully adjustable and rotates 360 degrees; you can also mount it anywhere on the rickshaw platform.
Aside from that, it has two adjustable footrests to relieve strain from the operator's legs and a support bar for your rest, so while not using it, you can keep the Rickshaw on the surface without getting it too low.
03.


Smooth, Quiet Ride Every Time
Cinebird dolly rolls incredibly smooth and silent with reliable and lightweight two front Pneumatic wheels and two rear jockey wheels.
The pneumatic wheels feature three height adjustment points, 5", 6" & 7", allowing the setup to adapt the height according to the rough and bumpy roads.
Also, the rear jockey wheels come with a locking system for greater stability.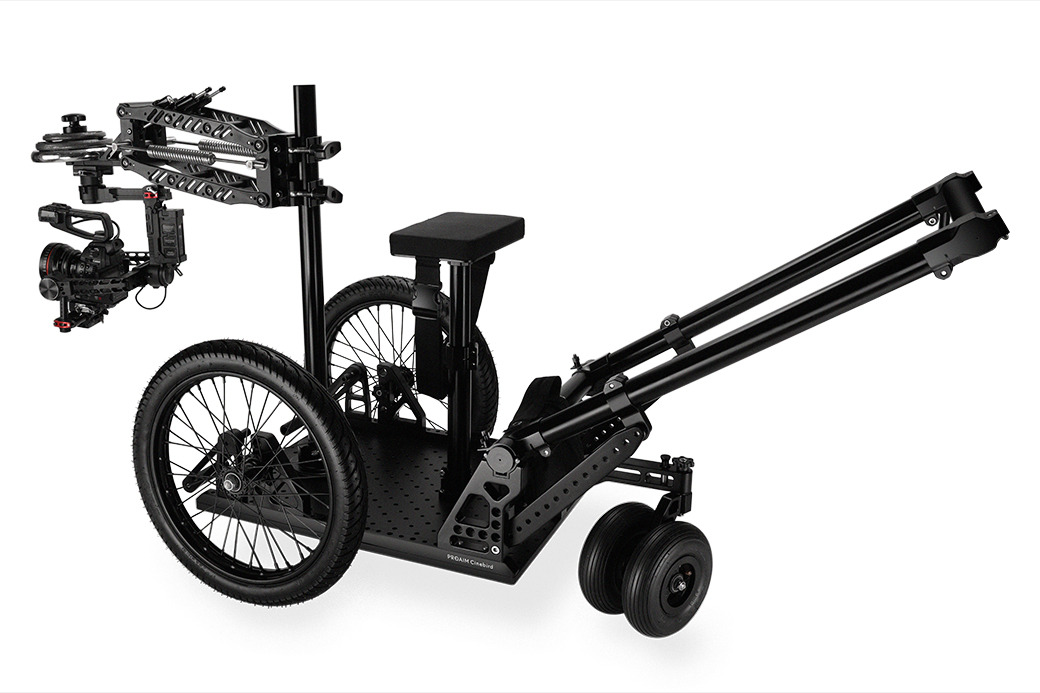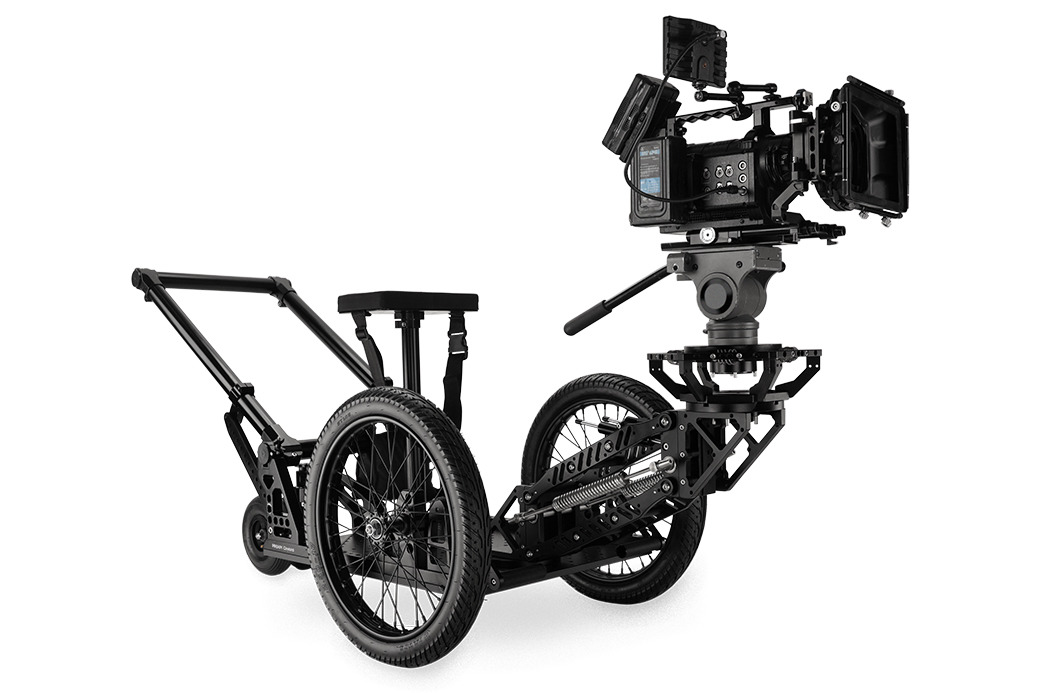 04.


Versatility at its Best
The Rickshaw's cheese plate platform with Mitchell mounting offers incredible mounting flexibility for compatible gears and additional accessories.
In addition, you can mount Scaffold Pole with Mitchell Mount, which works perfectly with Vibration Isolator Arms & 3-Axis Camera Gimbal and lets you achieve challenging moving shots.
And all these amazing perks outperform other rickshaw dollies in the market, whether it's superior quality, optimum performance, or cost-effectiveness.
---
Guaranteed Fast Delivery
For all orders
Quick and Efficient
Customer service

Easy Returns
Up to 30 days
1-Year Warranty
On All Products
---
Does the cheese plate of the Cinebird Camera Rickshaw Dolly Support have threads, and if so, what is their size?

The cheese plate features a combination of 10mm free holes and an 8mm threaded holes.

Is it possible to inquire if Balloon wheels are available for the Proaim Cinebird Camera Rickshaw Dolly Support?

We currently do not offer Balloon wheels that are compatible with the Cinebird Camera Rickshaw Dolly Support.