Proaim Stream 16ft Track for Heavy Camera Dolly & Crane, 2200 lb Payload
---
---
Professional, Ultra-Smooth, Sturdy Track for Heavy Dolly & Camera Jib Cranes!
---
Robust. Versatile. Stable.
The Proaim Stream 16ft Track is a high-quality, heavy-duty track system, made for Heavy Cine Dollies and Jib Cranes.
It is designed to offer maximum stability to the Camera setup and operator.
The high-grade Aluminum construction offers strength and can easily bear a total weight of 1000 kg / 2200 lb.
Sturdy Jointers & Fixed Crossties with Steel Tie-Brace offset the effects of high impact loads and stresses, resulting in Vibration-free movement.
The spacers keep the two sides of the Track correctly spaced throughout the length of the Track.
The optional end stoppers (not included) offer security to your set up.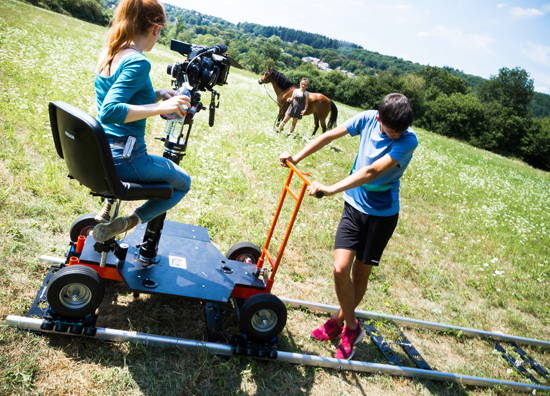 Precisely Made for Smooth Movements
Precise construction with holes reduces the noise transmission of driving through the hollow parts of the tracks.
The track ends are precisely cut to guarantee perfect track connections allowing smooth track-to-track transitions.
The Track is extendable from 4ft to any length up to your requirement.
Foldable System
The Track comes in 4 feet sections with a foldable design that allows easy assembly / disassembly.
The foldable version also minimizes the space required for transport and storage.
See how the Stream 16ft Track Works

57kg / 125lb (with Flight Case)
60kg / 132lb (Gross weight with corrugation box)
79.4 x 19.1 x 12.4 inches
16ft Track (4x 4ft Sections)
---
Guaranteed Fast Delivery
For all orders
Quick and Efficient
Customer service

Easy Returns
Up to 30 days
1-Year Warranty
On All Products
---
Have a Question?
Be the first to ask a question about this.
Ask a Question