Offload yourself to be Lighter & Happier you!!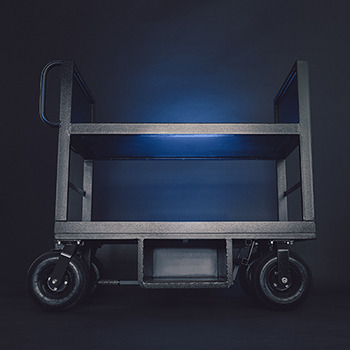 Stay Strong
Sturdy Cart take's off your burden so well for Stronger you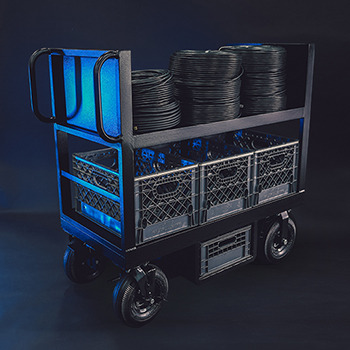 Keep it as you like it
Pile it with truck-load of Cables, Milk Crates, Distro/Lunch Boxes, etc. Fill it up as you require it.
For your Ease
Convenience & Comfort; made so Handy, Sturdy & Smooth.
See how the Vanguard Cart Works
High Grade Aluminum and Stainless-Steel
Top Shelf: 200 kg / 440lb
Fixed (Platform) Shelf: 250kg / 551lb
Rear Wheel : Revolving with foot brake
Front Wheel : Break through external lever brake
Pneumatic Tires (Air-Filled)
Wheel Pressure : 30 psi
Diameter : 10 inch
Width : 3.5 inch
Rim Diameter : 4 inch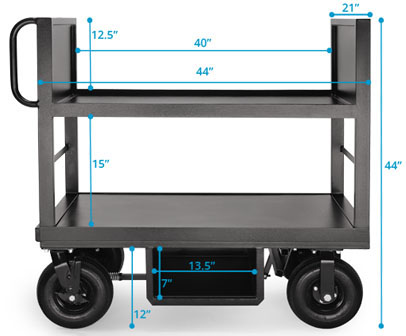 Product Weight Without Packing
Packing Dimensions (LXWXH)
Proaim Vanguard Cable Distro Micro Cart
01.

Ease-Up Yourself

The Powerful Vanguard Micro Production Cart is here to make you & your Crew's life a lot easier & happier by not letting you carry your heavy equipment.
It is made of High-Grade Materials with a payload of up to 450 kg / 1000 lb.
This Rolling Luggage Cart enhances your shooting experience by holding your Gear in one place.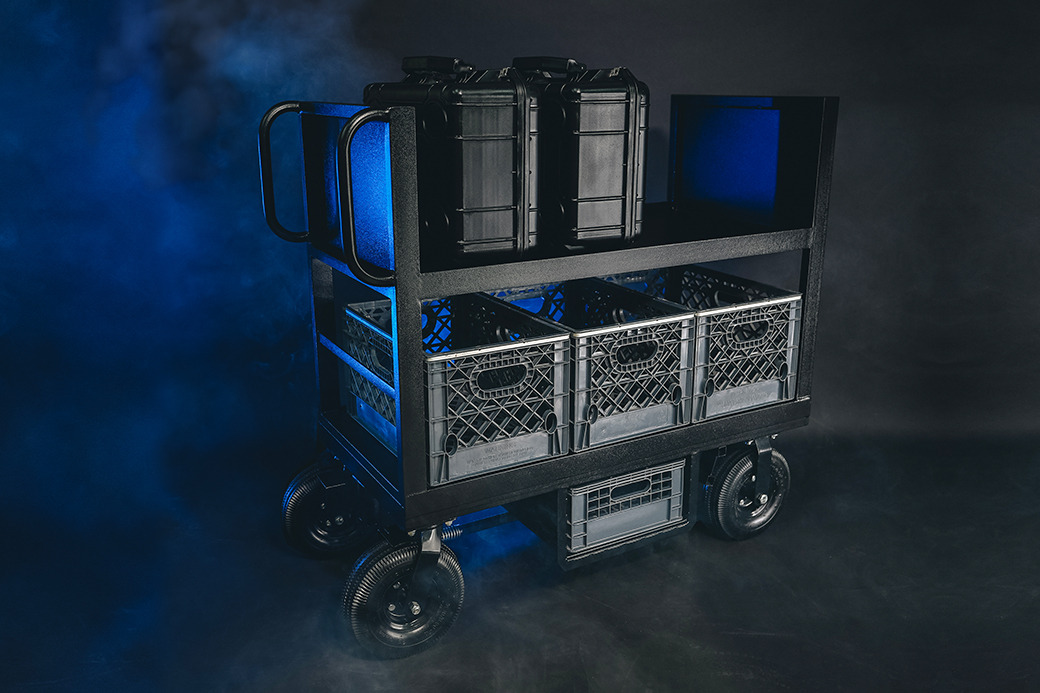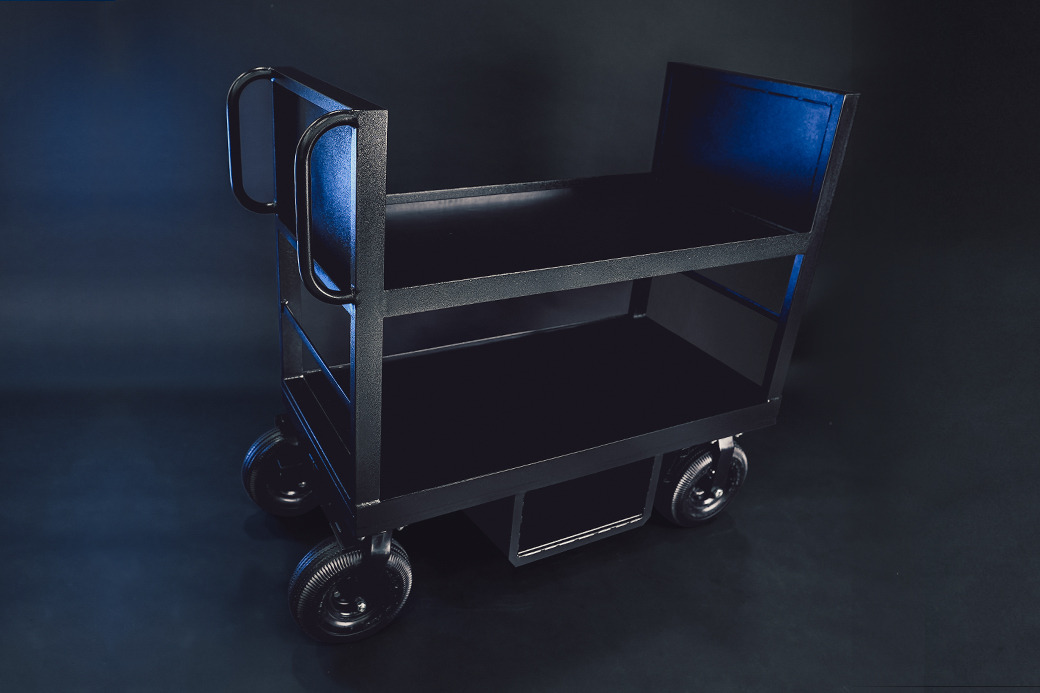 02.

Make it Yours

This Workstation features 2 Stationary Shelves with a massive payload of up to 250 kg / 550 lb.
The Shelves have a built-in wooden platform, which makes it more heavily loaded and gives a sense of sturdiness while loading & unloading your Milk Crates, Distro/Lunch Boxes Cable & other equipment.
It is also equipped with a jockey box/utility drawer to put your Crate which can hold your operating tools, devices & accessories in one place.
03.

Roll-it Anywhere

We have used Pneumatic wheels to ensure your Multi-purpose Camera Cart remains light & smooth while strolling.
The Rear wheels come with Swivel Caster & a swift foot brake.
And, front wheels have a Rigid Caster & its foot brakes has push paddle at the back of the cart to keep your functionality intact.
The D-Shaped Handles given for a solid and comfortable hold.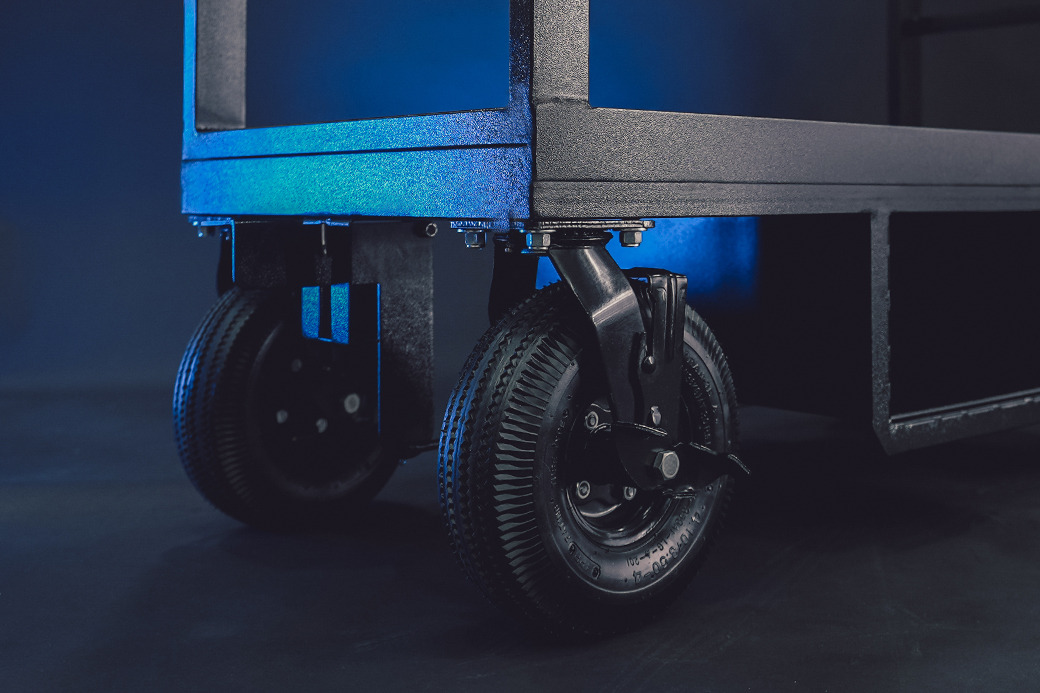 Guaranteed Fast Delivery
For all orders
Quick and Efficient
Customer service

Easy Returns
Up to 30 days
1-Year Warranty
On All Products
What carpet you use for the carts ?

The Black non woven carpets are used on our Carts.